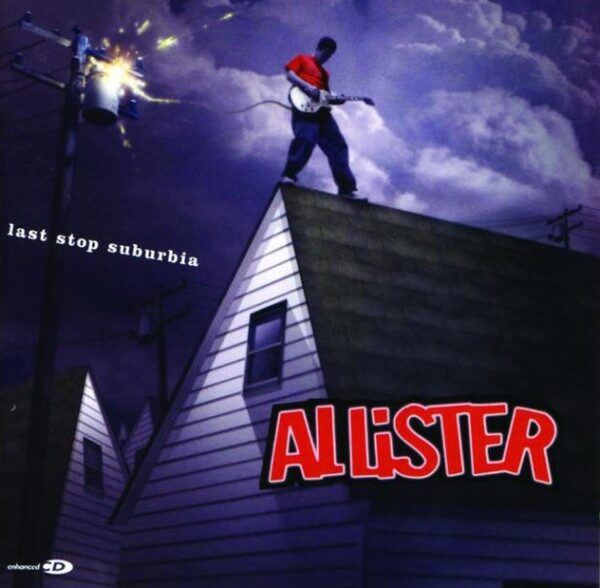 Allister
Last Stop Suburbia LP
Teenage angst, fast cars, devious girlfriends, 'pain in the arse' parents, and acute acne. Yes its another pop-punk offering from across the pond and yes, we've heard it all before. But hold on a minute! Was my girlfriend's straight-to-the-point summary of 'shite' entirely justified, or was she once again referring to my dress sense? Let us investigate…
…well, the first thing that strikes you about this album is that it sounds polished. Sparkly clean and right out of the studio to a stereo near you! There is no doubt that a lot of production time has gone into mixing this album. The traditionalists amongst you could argue a case for over-production but considering all the other good things this album has to offer, that would seem darn right picky and on the whole unfair, which brings me to the tunes.
From the opener 'Scratch', it soon becomes apparent that there is certainly nothing wrong in this department. In fact every song – and I mean every song – has a guaranteed hook that ensures you'll be humming those riffs long after you've finished listening. (For the record, and as my dress sense is at stake here, I made a point of trawling through this album to find the obligatory bad tune and I can safely say that apart from the potentially annoying, messing around in the studio, final tune, there isn't one!)
So what about the guitars? Well, being a punk-pop-skater boy type outfit, in your face punchy guitars are a definite pre-requisite and there are no disappointments here. Both guitars work incredibly well together to add some quality Green Day inspired strumming to every track whilst still being ferocious enough to give each tune that essential musical uppercut. Back this up with the solid bass playing and some great ass-kicking drum lines and what you've got is music to frighten both grandparents and small children with. Just pop your stereo by the window in good time for the school run, select 'Somewhere on Fullerton', turn it up to 11, and watch them scatter!
However, the music is one thing but without some suitably angst ridden vocals to scream along with, well what's the point? All I can say here is that these guys have certainly paid a visit to the 'Less Then Jake' school of uplifting harmonies and criss-crossing vocals which, in my book, means another big tick in the good album vs bad dress sense stakes. Just have a listen to the excellent 'Flypaper', or the anthemic 'Camouflage', and you'll be dusting off your old copy of 'Hello Rockview' wondering where they got that from.
So really if this album is so good what the hell possessed my good lady to make such a derogative comment as she wafted through the room on that fateful night? Well the only thing that I can put my finger on is the lyrical content. If you're at that privileged time of life where you're worried about shaving, pimples, trainers, sporty cars, girls, and sex then these lyrics will make perfect sense to you. However if, like me, you're at that time of life where you are worried about house prices, thinning hair, credit card debt, people carriers, women, and sex (you never stop worrying about that), then you are probably going to need to look elsewhere for some lyrical support.
In short Allister have come up with a damn fine album which any self-respecting teenager should be proud to own. Which means if any of you have any clothing tips…!?
Written by Habert on
Pete Habert was sub-editor for The Mag and co-ordinated submissions from the swarm of writers that contributed articles from their local music scenes.
Discover More Music