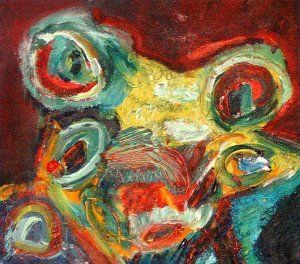 The Kates
Suicide Valentine EP
Released on 16th February 2004, this self-proclaimed double b-side is another slice of retro rock and roll from international raucous rock band The Kates. With cover art titled 'Two Frogs Fucking' and the first of the two b-sides titled 'Suicide Valentine' it's not hard to imagine that this valentine-week offering has stepped away from the tender-hearted stock of love songs.
'Suicide Valentine' is a three minute tune with all the trademarks of The Kates; a tribute to rock and roll with a modern song writing twist. The second of the b-sides, 'Student Bastards', is even better than 'Suicidal Valentine'. It has an intro that builds into a hooky SV-esque take on the fifties. The guitars switch from a clean riff in the intro to the familiar overdriven chords in the verse and chorus.
'At the Dogs' has some surreal moments on an instrument yet to be identified and survives well as a track with no discernable chorus and final song 'Drag Queen' is the highlight of the record; a real grinding rock number with a great chorus. The fade-out ending seems to befit the retro feel of the EP.
If judged as a complete fourteen-minute sample of The Kates, this collection is bigger than any of the songs individually due to the demonstration of diversity within The Kates reflective take of the genre – a true clash of old and new.
The Kates Articles
Written by Smith on
Stuart 'Saur' Smith was a prolific writer for The Mag throughout the magazine's lifetime. He combined a day job of temporary office jobs in London with a nightlife of trawling the capital's music venues looking for talent. As well as writing about music, he was a session musician who featured on a number of singles in the 90s. Today, Stuart is a Chief Writer for Phonotonal.
Discover More Music