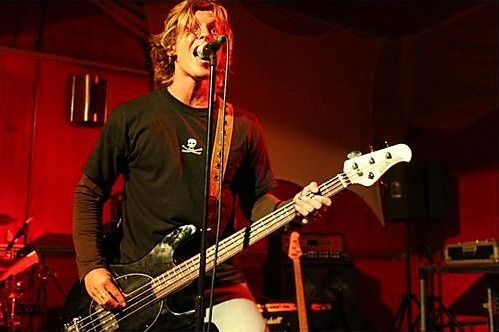 Emergenza: Tomb / Blind Summit / Neon Vice / Fallen Sun / Get Amped / Not Advised / Stupid
Once more The Joiners, Southampton, played host to a leg of the Emergenza Battle of the Bands tour. These events are a unique experience cramming 7 bands into one night and always seeming to be a mixture of intensely powerful performances and intensely dull performances. Unfortunately for Tomb, they lead the second category thanks to an inanimate performance.
The songs were generally rocky with about two cover versions thrown in to make up the set. This was a disappointing start to proceedings, but that is not to say that Tomb should just give up and go home. This wasn't a horrendous display of talentless noise, in fact there was some very competent musicianship, most of the problem was down to the delivery. With some hard work on their performance and material, Tomb may find audiences giving them a warmer reception.
Blind Summit were the complete reverse. The performance was a spectacle to behold. However, there were some moments in the music that brought on involuntary shivers. This was mostly down to the vocals, which, while being very emotional, reached moments of embarrassing flatness.
Again, there were positive elements to be found amongst their time on stage. First and foremost, they got through to the next round, so the crowd must have enjoyed their set.
The third act of the night was Neon Vice, a blues-rock band that finally combined an entertaining performance with the ability to deliver some half decent songs. The star of the show was the bass player, who combined a fair few styles to create a unique sound.
There was definitely a cock-rock element to Neon Vice, with a front man akin to David Lee Roth and a guitarist to match, with some fairly speedy fretting. Neon Vice were unlucky not to get through.
Get Amped hit the ground running and played the most incredible thirty minute set of the night. The main reason they stood out was the sheer quality of the material these guys have to play with. Every single track sounded great.
The second reason that they were so impressive was the ferocity and diversity of the drumming, which was incredibly solid and could be compared to a genetic fusion of Stewart Copeland and Fyfe Ewing.
Either Get Amped were given a short time slot, or they were THAT good that it seemed that they jumped up on stage, whipped up the crowd and then left within two minutes. Rather deservedly, Get Amped have also secured a place in the next round; based on this performance, they will be going a lot further.
With the unenviable task of being next up, Fallen Sun were an indie band with a selection of fairly cliché, but well played, songs.
Their overall style conjured up a vision of early Travis, which is a compliment to the songs and the assured vocals of the front man. It would be great to see what this band could do with some more original sounding songs.
Penultimate band, Not Advised, were another impressive act. Bring to mind Homegrown / Allister et al – and you'll know exactly what they sound like; fast skate-punk anthems with plenty of jumping about and off-stage antics.
The backing vocals were a notable affair, with lots of syncopated layers bouncing off each other, suggesting a song writing maturity beyond their years. This is a good sign for Not Advised as this was really the piece of the puzzle that gave them something new to show us in a genre that has been extensively covered. Not Advised were the last act to make it through to the next round.
Rounding things off rather brutally were a band that demand hesitation. It is very likely that they are called Stupid, but they also look really tough so it's not likely that you would shout it to their faces!
The music seemed to be inspired by punk/ska crossover acts such as the Bosstones, a combination of angry lyrics and clever beats. It would be unfair to squeeze them too far into that niche when the overall effect was quite rocky.
Unfortunately, the lateness (probably combined with the hour loss of BST looming) the crowd had dwindled slightly – otherwise this band may have been fighting for one of the three qualification places.
Written by Fenton on
Steve Fenton writes in our music, words, and culture categories. He was Editor in Chief for The Mag and covered live music for DV8 Magazine and Spill Magazine. He was often found in venues throughout the UK alongside ace-photographer, Mark Holloway. Steve is also a
technical writer and programmer
and writes
gothic fiction
. Steve studied Psychology at OSC, and Anarchy in the UK: A History of Punk from 1976-1978 at the University of Reading.
Discover More Music