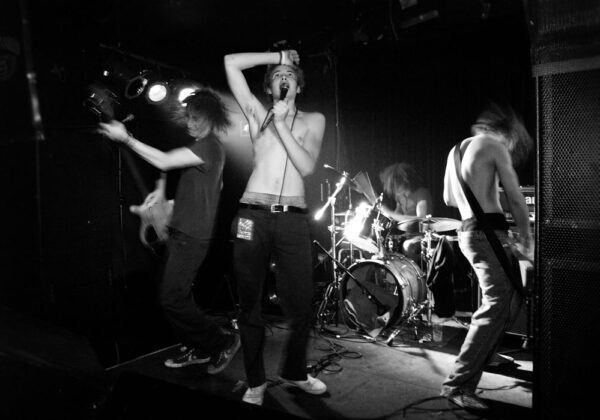 Rival Joustas
Live (Kumiss / Ripchord / The Morning)
The Joiners was host to an exceptional line up for the first ever SouthSCENE Presents gig. Newcomers Kumiss were openers and they are an apparently talented band.
With a mix of old and new material, some of the songs managed to shine in a performance effusive of their minor years. The talents of bass player Matt Blakey have increased ten fold since we last saw this band and it was the creative action here that stood out in their set. A little bit of work tightening up the drums and some cranking up of the guitar would have benefited the overall sound, but the Kumiss set is an hint of greater things to come.
'Civilisation' was still the track that grabbed my attention, but the new material is growing on me like a Russian vine on a shed!
Ripchord were second up and they were tighter than Gordon's purse strings. With a distinctive sound that brings to mind Muse and Radiohead's heavier moments, the 'Chord were a confident and well-oiled rock machine.
The bass player strutted like a masculine version of Stefan Oldsal and the combination of vocals from the guitarists, combined with the incredible range covered by the melody, made every song sound like a string of catchy chorus's in an electrifying performance.
If you had never seen The Morning, you could be forgiven for thinking that they had already made it! The energy that goes in to their performance, their self-styled image and their eclectic tracks merge in to a stampeding musical beast.
In retrospect, the lyrics did seem to take a back seat to the music, but that music will buzz around in your head for a long time. With a bit of time and a new brand of moisturiser, TM could well be the pioneers on future-retro!
Playing through some technical problems with drum hardware and guitar strings, the Rival Joustas put some real guts in to their performance.
With a simple lo-fi mix of crunchy bass and fluid guitar riffs backed up by some innovative drumming and solid vocals, RJ bring forth visions of the Rolling Stones with the self-assured attitude of their performance.
There is room for improvement musically, but the set was jammed full of material that has such enormous potential, it is easy to imagine this band getting grabbed by some Drive-Thru style record label – although it would be more beneficial for them to get some experience through hard graft for a few more years so they'll last longer when they make it.
---
Photograph by Mark Whitfield
Written by Fenton on
Steve Fenton writes in our music, words, and culture categories. He was Editor in Chief for The Mag and covered live music for DV8 Magazine and Spill Magazine. He was often found in venues throughout the UK alongside ace-photographer, Mark Holloway. Steve is also a
technical writer and programmer
and writes
gothic fiction
. Steve studied Psychology at OSC, and Anarchy in the UK: A History of Punk from 1976-1978 at the University of Reading.
Discover More Music