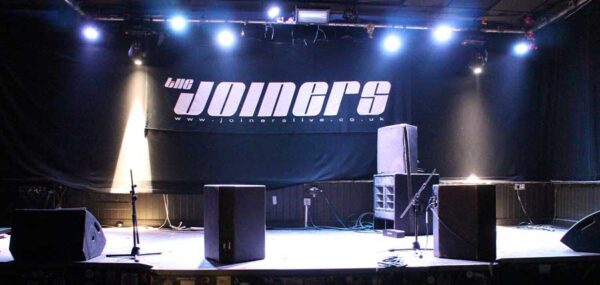 Pilger
Live (Intent / Tearjerk / Reserved for Nothing / Strikeout)
Intent opened another Four Foot Snake event at the Joiners, Southampton, with a frantic collection of material that combined all out noise with punchy intros.
Big sounding rock vocals fronted up the sound, with plenty of gutsy energy pumping from the singer, who vacated the stage early on and never returned, preferring to use the front of house area as a stomping ground.
The only real criticism for Intent would be that the bass and guitar did too much of the same thing. It would be interesting to see them go in slightly different directions occasionally, which could add a little class to the overall sound.
Having said that, there are already some fairly long-life songs in the set that are bound to grow on you the more you hear them.
Tearjerk were second up and couldn't fail to impress with the hooky guitar work and solid bass sound that formed the foundation of their set.
The front man took up the roaming singer mantle, getting involved in a couple of mini-riots in front of the stage. The vocals were similar in style to The Used, with hardcore shouting and melodic singing sitting side by side, although more of the performance could have been aimed out in to the crowd rather than towards the stage.
Starting out with a chord progression reminiscent of 'Dirty Diana' by Michael Jackson, Reserved for Nothing played an otherwise good set. There was real maturity in what isn't yet a finished product, with some great use of tempo changes and some neat transitions from emotional rock to all-out metal.
A little more variety in the intro's would be a bonus, although every song was distinct enough once it got going. RFN have got plenty going for them for such a new band.
Being a tight band with incredibly punchy, hardcore garage rock starts with the drummer. Strikeout have one of the best drummers ever, with some fluent and precision drumming. The other good news for this three piece is that the bass races along perfectly and the guitars are played with unusual attention to detail for the style.
They had some great songs that showed that, although they are clearly talented chaps, they know how to keep things simple when it needs to be hooky as well as being able to drop in one handed fills on the snare or pull out a one handed ultra-fast riff.
Pilger played a similarly fast and frantic style of music. They were a much looser outfit, creating a wall of noise that prevented any individual instrument from sculpting a hook or riff. Depite this, their commitment to having no song longer than 52 seconds made the set rather unique.
Not many people can get bored of a song that is less than a minute long, so Pilger will never fall down on that point, but it would be a real benefit to be able to remember something of the set except the shortness of the songs.
The performance was as hardcore as the music, with the vocalist getting right in to people faces to deliver personally the message contained within some fairly searching lyrics. The sweat level certainly suggests that Pilger put everything they've got in to their set.
Written by Fenton on
Steve Fenton writes in our music, words, and culture categories. He was Editor in Chief for The Mag and covered live music for DV8 Magazine and Spill Magazine. He was often found in venues throughout the UK alongside ace-photographer, Mark Holloway. Steve is also a
technical writer and programmer
and writes
gothic fiction
. Steve studied Psychology at OSC, and Anarchy in the UK: A History of Punk from 1976-1978 at the University of Reading.
Discover More Music