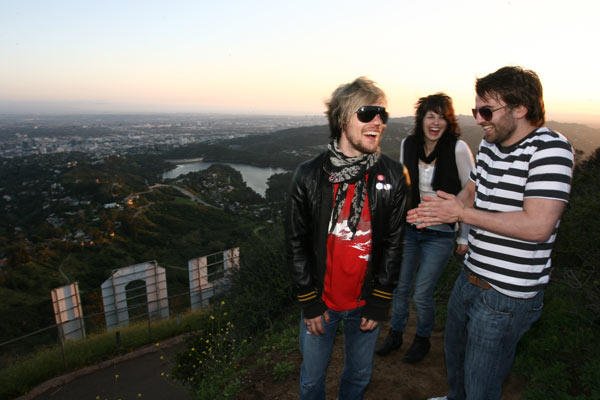 Fleeing New York
Promo
Formed at Winchester Art College, Fleeing New York are a three piece act who have created a bit of a buzz around the south's music scene with some well received live reviews. Made up of Russell Marsden (Guitar/Vocals), Emma Richardson (Bass/Vocals) and Matt Hayward (Drums), Fleeing New York's first self-titled promo serves up three tracks giving us a chance to have our say and decide whether all the fuss that's gone before is really justified.
The CD kicks off with the track 'Oh My God', which was not too far from my first comment when hearing Russell and Emma's vocal talents for the first time. Ranging from a seriously rocked up B52s to the near serenity of the Beautiful South, Emma's Siouxsie Sioux like delivery effortlessly chops and changes with Russell's laid back gritty vox. The overall effect is that, whether the vocals seem to be duelling or complementing each other, a real vibe is created that, put simply, sets this band apart from its peers.
However, to talk only in terms of vocals would be very wrong as musically there is some serious maturity here. Listen to either of the other two tracks, 'Scandinavia' or 'Sun is Low' and it becomes apparent that this is not a band who are happy to settle with one or two good riffs per song. Indeed, Fleeing New York seem to enjoy combining what really should be several songs into one tune which, for a band so young, is a potentially dangerous objective. However, they seem to have effortlessly pulled this off at pretty much the first attempt.
In short, the lasting impression left by this promo CD is that of a band with bags of potential which could be fulfilled given the right management, guidance, airplay, marketing, record label, stylist, diet, luck, etc, etc, etc…(you get the gist).
Written by Habert on
Pete Habert was sub-editor for The Mag and co-ordinated submissions from the swarm of writers that contributed articles from their local music scenes.
Discover More Music