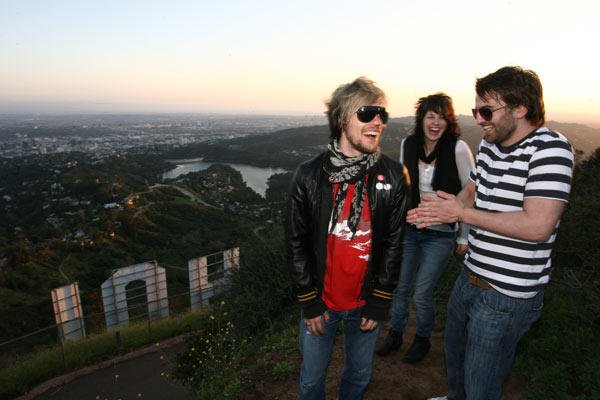 Fleeing New York
Live (The Sun Also Rises / Six Nation State / Heartwear Process)
Stepping into Kings Cross' The Water Rats, I momentarily wonder whether I've come to the right venue. Beer: yes. Punters: yes. All boxes ticked so far… but where are the bands? Secreted away behind the bar is a small, smoky theatre reeling to the sounds of opening band The Sun Also Rises' finale.
Like a wallop to the head, the music is unapologetically loud, dramatic and slightly reminiscent of The Phantom of the Opera. The stern-looking six-piece feature a female cellist and scarf-wearing singer, so you know they have to be serious. But with no time to dwell on their epic tendencies, the frantic turnaround is such that band number two is before us in the blink of an eye.
Six Nation State have been on the circuit for some time and it amazes me their fan base hasn't swelled to coach-load proportions. Indeed, as they stroll onto the stage, very much the new romantics in their flower-adorned shabby suits, the crowd seems disinterested. But the classic rousing opener, 'I feel the same', with its Weezer-esque summer vibe and frantic Spanish-style guitar riffs, sparks a firecracker of enthusiasm.
Like a good teacher, Six Nation State know when you're not paying attention. Vast amounts of energy are unleashed at unsuspecting ears, along with a degree of fear that lead singer Gerry may propel himself off the stage. With the charisma of Jack Black, he commands your attention as only a true performer can. And the music isn't bad either – tight, polished riffs, beautifully choreographed vocals and a healthy dollop of craziness.
Six Nation State's new single 'Keep Dancing' hits the nail on the head with its Coral inspired toe-tapping, twangy riff that sounds poppy enough to please the masses. Not that the band aren't keen to experiment; 'I Hate the Summer' has a glorious reggae vibe, openly credited to Bob Marley, and Spanish-styled track '1, 2, 3, 4' sees Gerry wield his guitar in the manner of a banjo.
Six Nation State make rock music their own way. Dirty thumping bass and frantic guitars there may be, but with lyrics like 'You and I were meant to be / The stars will shine for all to see' they will never escape an upbeat poppy vibe. And that is no bad thing.
Next on stage is Heartwear Process whose loyal fan base seems to comprise half the audience. Disconcertingly, it is chirpy, eloquent guitarist, Chris Sartin, who starts the proceedings with an elegiac introduction, before attention suddenly shifts to brooding, hulk-like lead singer Tom Purcell. The opening song 'Pile of Friend' is edgy and ominous, with tense pauses preceding raucous, thrashing guitars. Imagine a more sinister Incubus with a punchy edge.
If the crowd had forgotten they were in a theatre, Heartwear Process were a timely reminder. The lyrics are eloquent, poetic and polished, sounding almost as if they've been penned by William Blake on his darker days. Clichéd they are not, but whether they are helpful to Purcell's palpable anguish is questionable. I can only imagine it is cathartic for him to sing about 'the loathing, the hating, the bleeding and the drinking'. Sparking comparisons to politically-minded Hope of the States, Heartwear Process take brutal self-analysis to another level.
Perhaps Purcell's angst stems from an identity crisis? Call me old fashioned, but I expect the lead singer to do just that: take the lead. But in Heartwear Process' case, there are simply too many people vying for the limelight. Sartin clearly feels at home in the fan-thronged venue, and chats and jokes at length with the crowd as if there's a talent spotter for stand-up out there.
So much focus is placed on the deep and meaningful lyrics, that at times the music loses its way. This is not to say Heartwear Process don't know how to craft a brooding, tense build-up, or that they can't thrash guitars with the best of them, but there's a tendency to linger on one idea for too long and drama begins to border on dirge. The penultimate song, fittingly dedicated to Six Nation State, rectified this, with pacey drums and twitchy chords, set off by some theatrical miming and Timote-inspired hair flicking from the guitarists.
The final song, 'Humble Pie', has a skin-pricklingly good, Metallica-inspired build-up, with melodic guitars and imperial drums that get you edgy with anticipation. The excitement is all too much for guitarist Sartin, who frantically tries to get naked, while writhing around the stage with his compatriots in a heady combination of raw emotion and psychosis. The crowd can't get enough.
Altogether more composed, the ever-elegant Fleeing New York are last to grace the Water Rats stage. The designer-duo front piece, Emma Richardson and Russell Marsden, ooze style and wouldn't be out of place in a Top Shop ad. But there is no fluff and nonsense about the music: meaty guitars and drums quickly build up into rich, gritty sound that is quite at odds with such a pretty three-piece.
Richardson's rich, seductive voice glides effortlessly over the raging guitars and, like Yeah Yeah Yeahs singer, Karen O, she is not averse to exercising her vocal range. Marsden starts off more shakily (who wouldn't be intimated?), but blossoms into gorgeous harmonies as the set progresses.
Experimentation is key and there is no chance to get bored. The dramatic 80s-inspired rocky opening to 'Ha Ha', gives way to a funky, scratchy modern twist. 'Little Heart Attack' is a Placebo-tinged gritty number, with relentless guitars hovering over minor chords, punctuated by ticking-bomb drums.
The onslaught of rampant creativity dips slightly in the middle – even the gooiest chocolate cake has its boring spongy bits – but is rapidly redeemed with 'Hollywood Bowl': the icing on the cake. Spiced up with punchy lyrics and dizzying tempo changes, the punters are practically drooling. 'Fuckin love Hollywood Bowl' shouts one random from the audience.
The final track, 'Sure Fire' has it all; slow, syncopated beats, a growling guitars, and harmonies to make the Magic Numbers jealous. Mesmerising.
Discover More Music