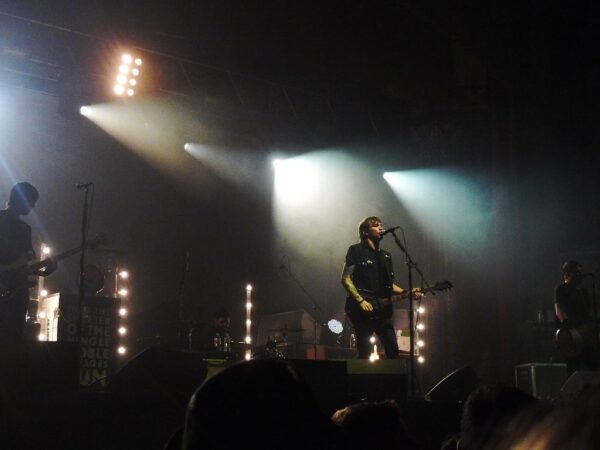 Against Me
Live (Ill Supply / No Substance)
Kicking off the punk line up at the Joiners in Southampton, Ill Supply had a set with something of an untidy looseness at it's heart.
The punk genre was a little abused with most of the material sounding like this band only practices on important anniversaries. On the up side, their performance was full of energy and there were even some decent ideas in the songs that may well turn in to fully fledged hooks if given a bit of sunlight.
Ill Supply are mostly unrealised potential at this stage, sounding as together as Ike and Tina. We're all looking forward to something a lot tighter from them in the future.
No Substance raised the bar with a feedback-fuelled full on punk set. Reminiscent of Stiff Little Fingers, they hit the crowd with a series of short hooky songs with vocals that can only be described as angry. This was a decent demonstration of how punk can be punchy and tidy without losing it's gutsy nature.
Headliners, Against Me, had the most general appeal of the bands on offer; playing punk that tended towards the punk-revival end of the scale. With a performance that instantly demanded attention and the songs to back up their confidence, the Florida-based punk-rockers didn't play a single track that wasn't anthemic-punk.
The already stifling temperature raised a couple of degrees as the mosh extended further and further from the stage and there was even some crowd surfing, which isn't a common sight in small venues.
This was probably as close to pop as punk dares to tread and it remains distanced enough from skate-punk and pop-punk to remain believable. It may not have been ground breaking, but it was a quality performance with plenty to remember.
---
Photograph by Angelo Yap
Written by Fenton on
Steve Fenton writes in our music, words, and culture categories. He was Editor in Chief for The Mag and covered live music for DV8 Magazine and Spill Magazine. He was often found in venues throughout the UK alongside ace-photographer, Mark Holloway. Steve is also a
technical writer and programmer
and writes
gothic fiction
. Steve studied Psychology at OSC, and Anarchy in the UK: A History of Punk from 1976-1978 at the University of Reading.
Discover More Music