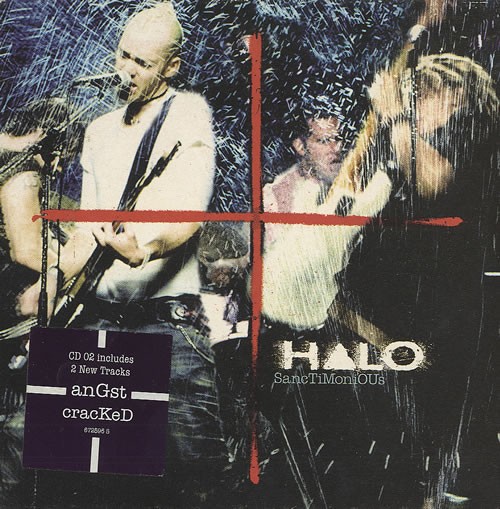 Halo
Live (Inhalate / Rival Joustas)
The Joiners was the venue for another impressive mix, with Inhalate opening the evening with their heavy grinding riffs.
Although these guys are still being held back by some drumming that lacks variation and doesn't have the tightness that is demonstrated between guitar and bass, the drummer has clearly been working on the problem and played his best set yet.
The two tracks most worth mentioning are 'Simon Says', which was probably their weakest song, with a shouty vocal that was in discord with the rest of the track and 'Killing Time', the high point of their set with it's meaty riff and memorable chorus. If they keep up the work on the drums and maybe add some contrast in to the set, Inhalate will do well in front of any metal-manic audience.
Rival Joustas have come in for a little criticism recently for failing to live up to their own high standards. Tonight, however, there were no such problems. Kicking off with the rightly popular 'Clarity' and following it up with some well controlled musical ability and completely uncontrolled performance, the RJs managed to make almost every song sound like their best offering.
The on-stage energy was the only hint at their diminutive years, with the songs seeming impossible coming from four chaps who should be musically naive and who would normally be playing irrationally long solo's to show off their talent. Already impressive and not far off being a lot more, the Rival Joustas are living up to their reputation.
Halo also had an instant appeal with two guitars that sounded like twenty, and a rhythm section more solid than a bunker. The three part vocal was a beauty that contrasted well with the rocky set.
Plenty of great songs formed the backbone of the set, with a performance that explained the underweight look sported by guitarists Graeme and Iain. If you have ever been criticised for a poor performance that failed to deliver the material effectively – you need look no further to see what cuts it. There was a natural immersion into the music accompanied by an interaction between the band members that sold every bar of every song that they played.
Influenced by some great bands, such as the Smashing Pumpkins, Tool, Nirvana, The Stones, and Led Zeppelin and easily good enough to be on the same bill as any of them, Halo could well feature in the 'influenced by' list of many other bands real soon.
Halo Articles
Written by Fenton on
Steve Fenton writes in our music, words, and culture categories. He was Editor in Chief for The Mag and covered live music for DV8 Magazine and Spill Magazine. He was often found in venues throughout the UK alongside ace-photographer, Mark Holloway. Steve is also a
technical writer and programmer
and writes
gothic fiction
. Steve studied Psychology at OSC, and Anarchy in the UK: A History of Punk from 1976-1978 at the University of Reading.
Discover More Music