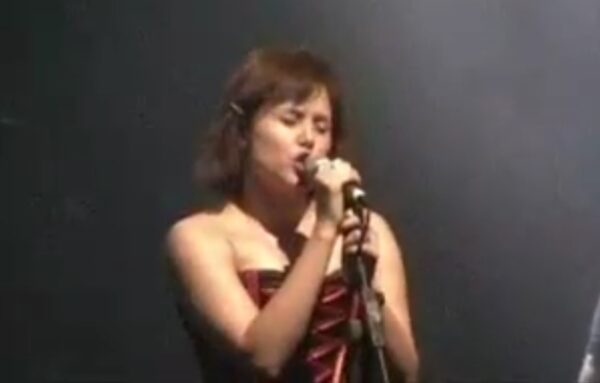 Caroline Alexander
Live (Widescreen / Finisterre / Kookee)
The Garage, London, was the venue and Widescreen were the first band on.
This was a punchy sounding three piece playing some highly polished material. That isn't to say it lacked anything though, the emotion was still there and the songs were hooky, there just weren't any mistakes, which is something of a rarity in a live performance.
There were some interesting time signatures and the sparse feel with reserved use of guitars helped things to push up a few gears for each chorus. There was no waiting around either, with the gap between songs being kept to an absolute minimum. Widescreen are one of those rare bands that you can't say anything bad about. Great songs and performance and definatly one to watch!
Finisterre were obviously a hit with the crowd, who were whipped up before the band played their first chord. However, there wasn't a huge amount in their set that backed up the level of frenzy on display. The songs were Britpop in nature and tended towards the Elastica end of the britometer, but the memorable nature of the stuff that was pumped out by Frischmann, et al, just wasn't inherent in the Finisterre sound.
The good points included the strong lead vocal and obvious ability as a band, so with some time spent crafting the songs, they could start impressing people instead of being background music.
Kookee break the mould of funk/rock by playing mostly rock with just a flavouring of funk. The use of two guitars bouncing off of each other throughout with interesting licks was the main attraction of this band and they know how to write an anthemic chorus.
The slower tracks suffered from a lack of the drive that was present in so many of their songs, but on the whole they played a great set with enough good material to please most punters.
Headliner, Caroline Alexander, stepped up next. With the smoothest, tightest drumming, guitar licks that haven't been heard since Skunk Anansie went their separate ways, and Caroline's intense and emotional vocals; there isn't much going on that isn't impressive. In fact, the bits that can't be labelled impressive all seem to fall within the 'darn-good' category. There was a good mix of pace and volume within the set and both old and new material sounded great.
With songs like 'If You', 'Yellow Baby', and the scorching 'Suicide Note', which all have a radio-friendly feel to their rock/metal sound, Caroline Alexander is holding all the cards. The release of the forthcoming album as soon as possible, followed by some relentless touring, will no doubt result in sucess.
Written by Fenton on
Steve Fenton writes in our music, words, and culture categories. He was Editor in Chief for The Mag and covered live music for DV8 Magazine and Spill Magazine. He was often found in venues throughout the UK alongside ace-photographer, Mark Holloway. Steve is also a
technical writer and programmer
and writes
gothic fiction
. Steve studied Psychology at OSC, and Anarchy in the UK: A History of Punk from 1976-1978 at the University of Reading.
Discover More Music