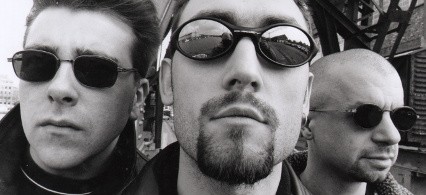 Halo
Live (Bushbaby)
A rare two-band line up at the Bull and Gate saw something of a Bristol derby. First up were Bushbaby, who played a stunning set that saw some clockwork-tight drumming, thundering bass, hooky guitar riffs, and emotional vocals.
Equal shares of Feeder-esque emotion, post-grunge dark moments, and pop appeal were the foundations of an incredibly interesting set that, while varied in content, was uncompromisingly consistent in quality.
The stand out track on the night was 'Megaphone', the embodiment of all the varied Bushbaby qualities rolled up into a single song and if the emotion of the chorus fails to move you, you should check your pulse.
If Bristol had more bands like this, they'd be back on the musical map in no time.
As if by magic, a fine demonstration of how Bristol does have more bands 'like this' in the form of Halo, whose trademark melodic wall-of-noise exploded from the small stage.
There is plenty to say about the songs themselves, all of which contain the same complex weave that forms their distinct and intense sound, but the jaw-dropping precision of the music combined with the self-immersed performance play as big a part in the set as the individual tracks themselves.
These two groups could well be the breakers at the front of the next Bristol wave, not that geography matters when the music has international appeal. If you don't hear a lot more from these bands, I'll eat my hat.
Halo Articles
Written by Fenton on
Steve Fenton writes in our music, words, and culture categories. He was Editor in Chief for The Mag and covered live music for DV8 Magazine and Spill Magazine. He was often found in venues throughout the UK alongside ace-photographer, Mark Holloway. Steve is also a
technical writer and programmer
and writes
gothic fiction
. Steve studied Psychology at OSC, and Anarchy in the UK: A History of Punk from 1976-1978 at the University of Reading.
Discover More Music