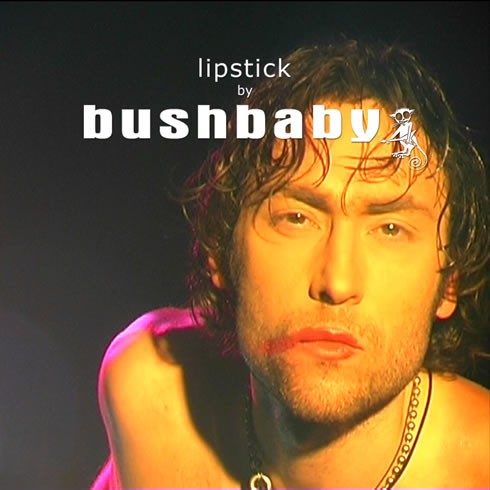 Bushbaby
Lipstick
Well trust me to open my mouth. No sooner had I pointed out Bushbaby's 'Tinsel Town' single was old hat, then their new single 'Lipstick' pops through the letterbox. Well fair play chaps, at least someone was reading the review!
Now I understand from sources close to the band that those delightful record industry people have been buzzing about Bushbaby like the proverbial flies around fresh poo. Not necessarily a bad thing you may think, but waving a record contract like a carrot on a stick is not always the way to get the best out of band. It adds pressure, imposes deadlines, and restricts touring all to produce a handful of tunes which may or may not impress some bloke in an office, who probably won't listen any further then halfway through the first track (my, how cynical I've become).
Well as the late great Mr Monkhouse once said 'if opportunity knocks…etc, etc, etc' and this is exactly what Bushbaby have done with their new single. Maybe not recorded under the most stress free of conditions, 'Lipstick' carries on from where 'Tinsel Town' left off with a top notch party rock anthem and a couple of more serious minded tunes on the reverse side.
'Lipstick', being the title track, is an oh-so catchy tune. From the distinctly Terrorvision, 'nah nah nah' intro to the lyrically hook-laden chorus, this tune serves up a chunky slice of pop-rock of the highest order. It's well written, well produced and, above all, hits the spot on the first listen while managing not to lose any of its punch during repeated plays. Just the ticket for the A&R man.
So what about the other two tracks? Well, both 'Ghost' and 'Scum' show a more serious side to Bushbaby that you could probably be forgiven for missing before.
'Ghost' is either an up-tempo ballad or a slow head-nodder. I can't decide which – and quite frankly it doesn't matter as lyrically this is a much deeper song with not a hint of any pickled eggs loitering in chicken shacks (confused? See the 'Tinsel Town' review)!
'Scum' on the other hand is two minutes and forty seconds of anger management therapy, Bushbaby style. Blazing guitars, rumbling bass and full throttle lyrics all come together to form the hardest track from either single.
So Mr Record man, impressed?
Well probably yes and possibly no. Yes in the sense that if you take 'Tinsel Town', 'Lipstick', 'Scum', and 'Skinny', you have the beginnings of a pretty good and very accessible rock/pop album. No, in the sense that maybe there are not enough jangly guitars, plonking pianos, and wistfully morose lyrics to satisfy the perceived pre-suicidal, Coldplay listening market.
Personally I say stuff your Coldplays of this world as all we really want is some light-hearted moshing to take us through our long, hot, global warming induced summers! Sign them, nurture them, and with hook writing like this, you'll get your just rewards.
Written by Habert on
Pete Habert was sub-editor for The Mag and co-ordinated submissions from the swarm of writers that contributed articles from their local music scenes.
Discover More Music