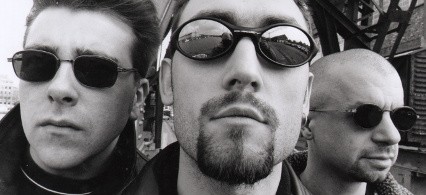 Bushbaby
Tinsel Town
I'd like to say Tinsel Town is the latest release from Bristol based rockers Bushbaby; but it isn't. In fact the band has since been back in the studio to record some new material, on the back of record industry interest from this single and their nine date UK tour last year.
So considering this, you are well within your rights to ask 'why, in the good name of our lord J C Lydon , are you wasting my time by reviewing this chuffing single and not their new stuff then??'
Well, to be honest, we have a bit of a confession to make here at the mag. The single dropped through our letterbox several months back and it got chucked in the CD player where it stayed for several days doing some very good business in the office. It then went and did one of those mysterious teleporting tricks and ended up in one of the many quivering piles of disks, where it disguised itself for a few months. Bushbaby then recorded their new stuff (of which 'Lipstick' looks like being the next single) and during our Easter spring clean the little fella decided to re-emerge and here we are.
Or in other words, we lost it…shit! I mean that's not the sort assurance we want to give to bands upon sending their stuff in 'yeah, cheers mate, hmm… nice drinks coaster' now is it? In fact the reason you are reading this now is that every demo, promo, EP, LP – does get reviewed. Just some a little later then others, so… err, sorry!
So now I've taken up most of your time with a shoddy excuse and a half-baked apology, the least I could do is say something about the single.
Well, I would say 'Tinsel Town' has more then a smattering of Terrorvision about it, but that's probably been said before. I could comment that the b-side track 'Skinny' is a great little rocker, but someone has bound to have been there as well. So I'm not going to bother.
All I'm going to say is that any band who writes a tune with the lyric 'I'm a pickled egg in a chicken shack' will always get my vote!
Written by Habert on
Pete Habert was sub-editor for The Mag and co-ordinated submissions from the swarm of writers that contributed articles from their local music scenes.
Discover More Music