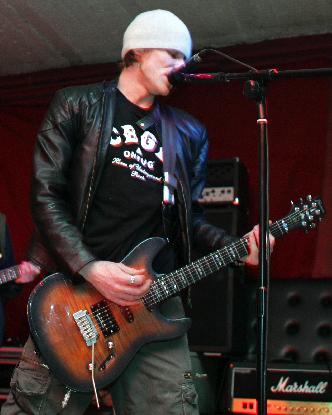 Optional Down
Promo EP
Never let it be said that the mag confines itself to the realms of Southern England. This promo winged it's way from Germany and arrived with the optimistic press release promise that it would 'change the rock world forever'.
Now I'm not sure how these things work in Germany, but here in the UK making a claim of that magnitude is akin to taking a small handgun and blowing your big toe clean off. Putting it another way, there is a fine line between confidence and delusion, and rhetoric of this sort will always put new bands into the latter category until proven innocent… beware!
So lesson/rant over, does this promo provide any justification that the world of rock is in for an almighty hiding or will it fail to raise a single eyebrow? Well somewhere in between is about right.
Of the three tracks on this promo, 'Bleeding' is easily the pick of the bunch. From its anthemic chorus to the intelligent guitar breaks, this track has the feel of Nickleback's 'How You Remind Me' about it. Whether it will go on to enjoy the massive success its forerunner achieved is doubtful, however with decent airplay and a slick video there is no reason why this track couldn't go on to do some good business. It also shows that Optional Down are quite capable of writing a classy tune when they are in the mood. Unfortunately they were not in the same mood when writing the other two songs on this promo.
'Rising' has a distinctly American eighties metal feel with its soaring vocals, full on guitar and menacing bass line. The two inexplicable tempo changes in the first half of the song sit badly with the ears no matter how many times you hear them. Likewise, 'Here Comes the Sun' tries to fit a slow Metallica-esque lament with an uplifting, up tempo, drive rock style chorus, and while individually the pieces of this tune work, together the overall mood of the song becomes confused.
Both tracks certainly have their good moments but you can't shake the feeling that the overriding need to create something different is actually detracting from what could be a solid end product.
That said, 'Bleeding' shows Optional Down certainly have the ability to pen a decent hard melodic rocker however, they would need to leave their slightly loony delusions of 'world domination' on the other side of the channel if they want to be taken seriously in the UK.
Optional Down Articles
Written by Habert on
Pete Habert was sub-editor for The Mag and co-ordinated submissions from the swarm of writers that contributed articles from their local music scenes.
Discover More Music