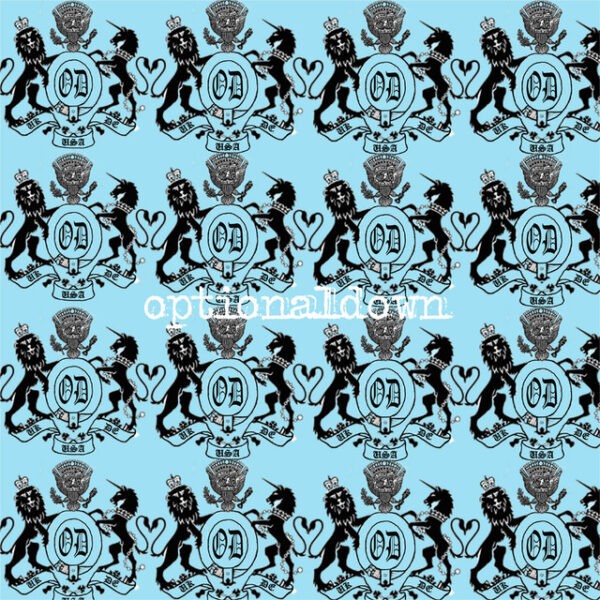 Optional Down
Blue EP
Well, The Mag's reviewing roundabout revolves again and the hand of fate makes a slightly rude gesture and throws Optional Down's second offering onto my desk (shortly followed by Loopy – both of which have I've had the aural pleasure of before from previous offerings).
Last time around these chaps scored a credible 5/10 however, concern was there with the odd off-colour melody and a press release proclaiming world domination – you could almost envisage them spinning around on a leather-backed chair, sporting an eye patch and stroking a rather surprised pussy!
Well, time moves on and, after catching them live and leaving our Nik S suitably impressed, it's an excited hand that pops their latest offering into the stereo.
Hints of Dimebag Darryl smack you in the face with the opening riff of 'Thrown Away' and sets things up perfectly for the one/two punch of the verse and chorus. And what a good chorus it is, packed with musical and lyrical hooks, it rolls effortlessly into your ears ensuring it hangs around for sometime after. Yes there is a subtle hint of camembert however, the sheer menace of the crunching riffing gives 'Thrown Away' a rather large set of credible testicles that they are more than happy to swing in your face – and I haven't even mentioned Chris Barron's piercing vocals.
'Real' appears with a classic guitar melody underpinned by some more solid rhythm riffing, immediately showing how two guitars should work together. Barron's vocals then kick in and deliver their lyrics with another melody, perfectly complimenting what the guitars have already set up. If I was going to be picky I would tentatively suggest that it's Planet Rock fodder (as it passes the inoffensive/angry dad test) but that's doing it a slight disservice as the lyrical delivery has moments of real beauty and, as a whole, the song works really well on more then just the obvious level.
'I Should Have Known' says it's next on the sleeve inner, but I know it's fibbing right from the opening riff. Why? Well because it's actually the rather excellent 'Bleeding' which was the highlight of their first CD. Yes, it owes much to Nickleback's 'How You Remind Me' but in all the right ways. It is powerful, memorable, and a head-turner – the sort of track that becomes one of those guilty pleasures as you find yourself hitting repeat for the eighth time.
'I' should end the CD according to our slightly dodgy sleeve notes but the arrival of another 'oldy' 'Rising' shouldn't really have been a surprise. It has been re-recorded and it sounds better for it. The jarring time signature still remains from the original but, like 'Bleeding', it hasn't aged a jot and manages to sound much better this time around.
'I Should Have Known' finally raises its melancholy head with a meaty lament about relationships. It plods along occupying your time, keeping its head above water with the impressive vocals. However, it's not their best.
In fact, as the last (and most interesting) track 'I' shows, up-tempo faster rock is really their bag. Here we are treated to a bouncy intro courtesy of the funky Vs metal guitars. It then launches itself into a (slightly) quirky rock epic leaving the guitars to one side and letting the bass, with its most excellent fretwork, and the vocals to carry things to the chorus. Again Optional Down show that regardless of anything else, they can write big choruses and meaty riffs that imbed themselves in the frontal lobe from the first listen.
And that should be that. . .
. . . but hold on a minute, what's this? A mystery track? Now I'm suitably confused, especially as the track listing seems to be as helpful as a little old lady directing you around a one-way system when you're late for a very important date. Well, I'm guessing here but I'm plumping for 'Addicted to a Memory' as a title. It seems a bit obvious (going by the chorus) but pretty much fits this off-centre, hard-rocking song well.
A nice little bonus, so thanks chaps. . .
. . . ah ha, me and my mouth, here's another one! At this rate, I'm going to have to cancel my night down the pub. This time I'm calling this one 'This Time', courtesy of the chorus. Chugging riffs, building all the way through, and a pumped-up crescendo are the order of the day, and with that, I've got my jacket on and my beer money in my pocket.
No, no, my mistake! Reschedule my diary please because here's another and another and, err, another and . . . now gentlemen I've already had to clear all of tomorrow's appointments to fit this in, but at this rate, I'm going to use up the rest of my holiday leave.
…and then it finally goes quiet…
…for a bit
Oh sweet baby Jesus with a Flying V, I'm up to 10 tracks on stereo and it's still going. It's a bloody double album masquerading as a four-track demo! 4 tracks on the sleeve notes, and 14 tracks on the disc!
That said I've got an inkling that I may have reached the last track on this opus. The laid-back swing time signature, jazzy/bluesy melodies, and the cheeky lyrics taunting me that 'I don't know how it's going to end' have got my suspicions up. Yep, I can hear the doobey doo, whop whops coming over the hill, hinting things are about to be wound up with a slightly smoky jazz grin. They are, and with a quick 'Optional Down has left the building', they're gone.
Mind, I do a quick search of the house just in case they've snuck an extra sneaky, time-delayed hidden track inside my wardrobe, ready to blast me awake at four in the morning.
Optional Down Articles
Written by Habert on
Pete Habert was sub-editor for The Mag and co-ordinated submissions from the swarm of writers that contributed articles from their local music scenes.
Discover More Music