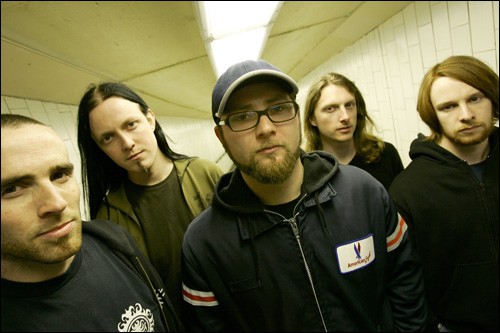 Twin Zero
Live (Judas Kisses / Inhalate / 27)
Kicking off the Sunday night proceedings at The Joiners, Judas Kisses had a sound that was definately one for the more artistic listeners.
A powerfull backing track was the driving force behind this solo act, with guitars reminiscent of Placebo's darker moments and vocals that brought to mind seventies musical poetry.
The best track in the set, 'Agoraphobic', had a driving rythm and intense sound similar to Lunascape and had the most memorable chorus of the set. This wasn't the most accesible music, but it was an excellent journey in to a style that has very little saturation.
Inhalate were next up and played a storming set. With their grinding riff style and angsty vocals, they actually created the heaviest moments of the night. This is a band that are slowly becoming something rather impressive, with the rythm getting harder and tighter every time they play. There was no holding back in the performance either, which made every song work perfectly in their set. If they keep working as hard as they are now, Inhalate will be topping the bill without any trouble at all.
All the way from Boston, 27 were a polished mellow pop-rock outfit with impressive vocals reminiscent of Lisa Loeb. The chilled out songs didn't necessarily contain lots of hooks or memorable melodies, but they were very pleasing on the ear. If it had been outside, during a heat wave and in the middle of a lush grassy field; this would have been the perfect sound to capture the moment.
Twin Zero started off sounding like a rock metal band with a fairly messy double-drum-kit rythm and lots of noise from guitars, bass and keyboards. It wasn't an impressive start, but these heavier moments were much better than the attempts at melodic, emotional rock that appeared later in the set and started to make it drag.
Twin Zero seemed to be caught between two different genre's, and rather than conjuring up a hybrid of the two, they just switched between them. However, if you happen to be a metal fan dating an emo fan, it might be just what you are looking for!
Written by Fenton on
Steve Fenton writes in our music, words, and culture categories. He was Editor in Chief for The Mag and covered live music for DV8 Magazine and Spill Magazine. He was often found in venues throughout the UK alongside ace-photographer, Mark Holloway. Steve is also a
technical writer and programmer
and writes
gothic fiction
. Steve studied Psychology at OSC, and Anarchy in the UK: A History of Punk from 1976-1978 at the University of Reading.
Discover More Music