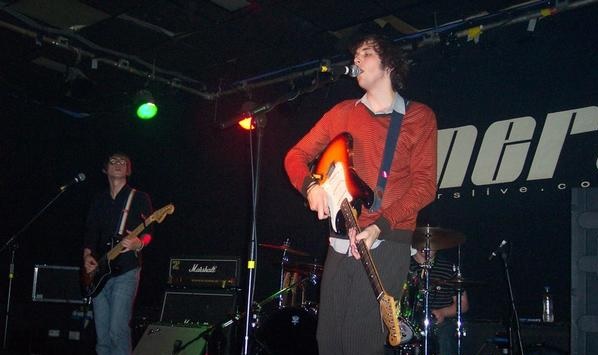 Little Green
The Pequod Sessions EP
Grasping the quirky indie-rock baton from their previous demo, Little Green's 'The Pequod Sessions' has some more unusual, yet hooky, moments to offer.
Starting with 'Lots and Lots and Lots', the EP really does pick up where the last CD left off; Malkmus-style vocals drifting over tons of direction-changes and neat little start-stops.
With a track length equal to half of their previous releases, this track leaves you wanting more. This is ideal really, as the next track, 'Star', steps in to satisfy the appetite created by the unexpectedly short start.
The addition of some classy brass over the guitars adds depth to this track, which features the trademark oddness in the rhythm that bounces from guitar to drums and back.
The untitled third track features the most distinct bass guitar lines on offer, separating from the guitar riffs and doing something a bit more complementary than usual.
'Ptang Ferone' is a bouncy affair with jangly guitars and a faster pace. This is the most forgettable song on offer, with its comparative straightforwardness and uncomplicated structure. However, at less than two minutes, it must also represent their shortest ever number.
Back on familiar ground, but sounding apart from the other material, 'Leaving Seems So Far Away' has a fresh feel to it that suggests that it's a more recent scribing. The Little Green indicators are there again in the construction, but the end result is slightly different and gives another dimension to the record.
There is a little less Radiohead and Muse about this EP and a little more of the laid back Pavement-esque slant to the music that lends intrigue to the songs.
The Little Green sound treads a thin line between artistic and pretentious, which may isolate more mainstream listeners. However, they demonstrate lots and lots and lots of times on this record that it is possible to do something different that doesn't sound like self-gratifying rubbish.
Written by Fenton on
Steve Fenton writes in our music, words, and culture categories. He was Editor in Chief for The Mag and covered live music for DV8 Magazine and Spill Magazine. He was often found in venues throughout the UK alongside ace-photographer, Mark Holloway. Steve is also a
technical writer and programmer
and writes
gothic fiction
. Steve studied Psychology at OSC, and Anarchy in the UK: A History of Punk from 1976-1978 at the University of Reading.
Discover More Music