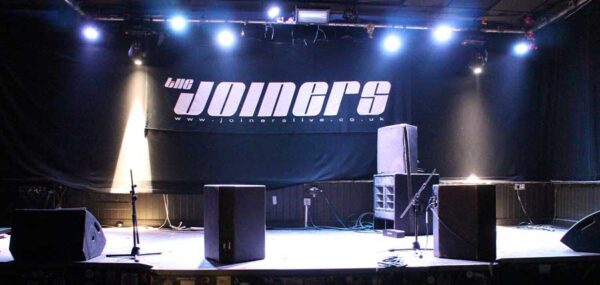 Minus
Live (My Mantra / The Vaults)
My Mantra opened the night, playing to an already busy Joiners Arms. First impressions suggest that these chaps play 90's rock with big riffs and a powerful rhythm section, but there are other elements to the songs that draw comparisons with the heavier moments of Feeder.
The vocal is angsty and in your face, maintaining an emotional and tuneful edge, and the overall result is a well-crafted, professional sound. With enough variety in their set and consistency in their sound, My Mantra were the best band on the night.
The Vaults started their set with a really strong retro sound with pleasantly simple music and a throaty vocal. I really enjoyed the first track in particular, which had lots of chops and changes.
The vocal was very much the focus of the music, with the guitars and bass doing just enough to hold the song together as a backdrop. The main problem was that, while the first track was a lot of fun, the rest of the set never really offered anything different. If The Vaults could make each song distinct, they would be a greater band. The musical talent is so obviously there.
Headliners, Minus, are either really good or plain average depending on whether you like a bit of stadium style metal. The performance was a series of classic rock and metal poses and this matched their sound rather well. The drums were almost clockwork and the bass and guitars were in perfect synchronisation in the riffs, but there wasn't much invention on offer.
Maybe Minus are a band for those who want to relive those heady days of heavy metal?
Written by Fenton on
Steve Fenton writes in our music, words, and culture categories. He was Editor in Chief for The Mag and covered live music for DV8 Magazine and Spill Magazine. He was often found in venues throughout the UK alongside ace-photographer, Mark Holloway. Steve is also a
technical writer and programmer
and writes
gothic fiction
. Steve studied Psychology at OSC, and Anarchy in the UK: A History of Punk from 1976-1978 at the University of Reading.
Discover More Music