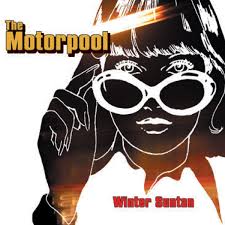 The Motorpool
Winter Suntan
The Mag's very own editor hands me a distinctly non-CD-sized envelope and with a smug grin says "I think this is for you!". More than a little confused, I peel back the bubble wrap to discover a pair of flip-flops.
Okay Motorpool, you've got my attention! The significance of the flip-flops, which overseas readers might call 'thongs', is that the latest single from The Motorpool is called 'Winter Suntan'.
A brave vocal accompanied by warm guitars introduces the song and the very second the rest of the music starts the mood is set. Throbbing heartache is the order of the day.
The vocals slide from David Bowie to Thom Yorke but the music is the same moving indie-Britpop that we heard on their previous single 'X-Ray Eyes', with simple drumming and well constructed guitars.
This single is a little sparking gemstone and is a bit of a contradiction, being some sort of uplifting melancholy. The two remixes add a different spin with the 'Up Stix 'n' Go Mix' being my favourite of the two.
Despite the fact that this CD essentially only contains one song, I don't seem to be able to remove it from my stereo.
This single featured on the album X-Ray Eyes.
Written by Smith on
Stuart 'Saur' Smith was a prolific writer for The Mag throughout the magazine's lifetime. He combined a day job of temporary office jobs in London with a nightlife of trawling the capital's music venues looking for talent. As well as writing about music, he was a session musician who featured on a number of singles in the 90s. Today, Stuart is a Chief Writer for Phonotonal.
Discover More Music