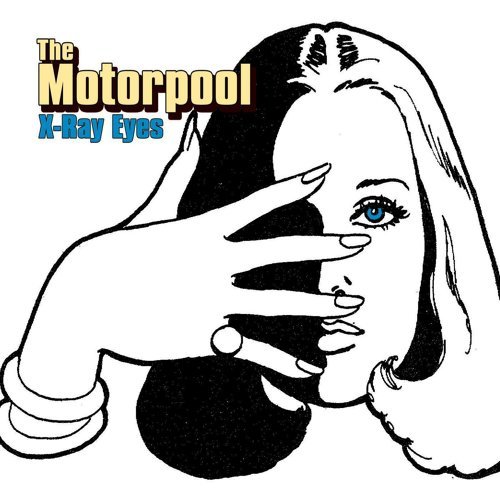 The Motorpool
X-Ray Eyes LP
The Motorpool is the creation of brothers Billy and James Traxler, who form the centre of this London five piece. Available right this second, 'X-Ray Eyes' is the debut album containing twelve tracks, which follows on from two very strong singles; including the title track X-Ray Eyes.
'Neon Smile' opens with some pace and introduces the atmosphere of the record with the distinctive sound of The Motorpool, before using the emotional chorus of 'Winter Suntan' to draw people even deeper. There are complex parts that drift in and out almost unnoticed and the guitar sound in the chorus is nothing short of exceptional.
With plenty of highlights on this record it's difficult to avoid a detailed analysis of every single track, but there were a few songs that truly stand out. 'Shockwaves' is one of these tracks. It has a bass run that keeps the verse low down, while the chorus injects a pop hook into the track. This is the kind of song that could easily dominate the airwaves with a radio friendly sound and refreshingly different style.
Building up solidly from an acoustic start, 'Shutdown' explodes into a cracking chorus that just won't be forgotten. This track has a great break after the second verse with keyboard and drums that pull back on the reins before letting rip for another chorus.
'Shifting Sands' makes good use of the contrast between acoustic quietness and electric volume with spikes of noise ripping through the silence and a full-on kicking chorus. If I had to choose one track to play to someone in order to convince them of this band, I would choose this one (although you can't go too far wrong with any of the tracks on the disk).
The Motorpool have sculpted a distinctive sound using a theme of trademark guitar sounds and Bowiesque vocals that feature in every single tune. Despite having this recognisable formula there is diversity enough in the selection of songs to prevent them from melting together. If you like the high level of musical quality that made Britpop special, or if you just like some really memorable tunes, then this is a band you'll love.
'X-Ray Eyes' is available now from independent record retailers and online.
Written by Fenton on
Steve Fenton writes in our music, words, and culture categories. He was Editor in Chief for The Mag and covered live music for DV8 Magazine and Spill Magazine. He was often found in venues throughout the UK alongside ace-photographer, Mark Holloway. Steve is also a
technical writer and programmer
and writes
gothic fiction
. Steve studied Psychology at OSC, and Anarchy in the UK: A History of Punk from 1976-1978 at the University of Reading.
Discover More Music