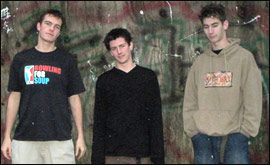 One Day Life
Same Old Story EP
Starting out sounding like the bastard son of Jimmy Eat World and Allister, 'One Shot Nothing' has hooky chorus lines and a great multi-vocal ending. It's fast, it's punk, and it's incredibly professional.
The vocals are what you'd expect from a pop-punk band, but with a Greenday-lilt and, of course, coming from South East England, they don't have the American whine of the more popular bands in this genre.
'Don't Look Down' has a bouncy feel and the subtle harmonies in the chorus lift the lyrics and enhance the hope-anthem feel of the song. The video that accompanies this track is a well presented extra, mixing live footage with backstage, studio, and at-home images.
It gets a bit emotional in the break-up song 'Hel Awaits', with regret and heartbreak evident in the lyrics. Final track 'All or Nothing' has a similar feel, demonstrating clearly that each track embodies the slogan scratched at the bottom of the fold-out 'Boy meets girl. Both hearts break. Same old story.'
One Day Life don't have the intricate guitar work of other pop-punk acts, but what they do have is a slick polished surface that will glide in to your ears and provoke some kind of reaction.
The music makes you want to smile. The lyrics make you want to cry. A beautiful juxtaposition. After you've made your way through the whole disc, you won't be able to believe that this is an unsigned band.
One Day Life Articles
Written by Smith on
Stuart 'Saur' Smith was a prolific writer for The Mag throughout the magazine's lifetime. He combined a day job of temporary office jobs in London with a nightlife of trawling the capital's music venues looking for talent. As well as writing about music, he was a session musician who featured on a number of singles in the 90s. Today, Stuart is a Chief Writer for Phonotonal.
Discover More Music