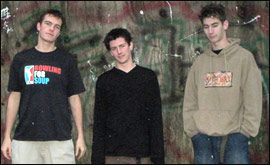 One Day Life
Friends in Name Only
Gee, American influence is everywhere these days, man. That's cool and all, but are we gonna be, like, assimilating their culture, here?
If you're wondering what I'm talking about, well it's that fact that Ipswich based One Day Life start the biography by telling us that they've come a long way since High School. This must either be a reflection of some Atlantic culture sharing or a relaxation on school rules concerning banned substances. School aside, they do go on to tell us about an impressive touring schedule for 2006, which looks likely to earn them a sack full of free gifts from petrol stations.
'Friends in Name Only' is their second EP and pretty much continues from where 'Same Old Story' left off; spewing forth choppy pop punk anthems with emotional lyrics that generally emanate from broken relationships. Aw!
There are some good moments in all the tracks, the bridge of 'A Life Half Lived', the chorus of 'Four Hundred Feet', and the crashing intro to 'Mistakes and Memories' to name just a few. The best track on the record, though, is 'Brand New Enemy'. With an inventive intro and really attractive verse, the chorus does an excellent job of being the best part of the song.
I'm a bit worried about what would happen to One Day Life if they found themselves in long-term relationships that made them happy – it could well be a disaster! However, as long as they're having their hearts ripped out of their chests and dashed to pieced on the floor, we're in for a series of great tracks.
One Day Life Articles
Written by Smith on
Stuart 'Saur' Smith was a prolific writer for The Mag throughout the magazine's lifetime. He combined a day job of temporary office jobs in London with a nightlife of trawling the capital's music venues looking for talent. As well as writing about music, he was a session musician who featured on a number of singles in the 90s. Today, Stuart is a Chief Writer for Phonotonal.
Discover More Music