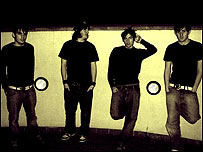 The Fallout Theory
Demo
The Fallout Theory describe themselves as a four piece melodic outfit. This may sound like the description of a flashy Armani suit, but it actually describes a rock sound that has elements of EMO and alternative at it's roots.
The opening track has some ripping guitars and punchy drumming that set the scene for vocals that bring to mind The Used and the quiet breakdown aids their claim of being melodic.
The second track has a bit more pop-punk in the introduction and verse. The chorus is hooky but it's the verse, with it's little riff floating in the background, that sticks in the mind. This song has been put together expertly with an awareness of the need for breaks and changes. They don't just stop and start, the breaks contain the kind of melodic moments and clever ideas that some bands might try to use as the main hook line of a song.
The third track suffers a little with a near-miss in the backing vocals in the first verse, but they do improve as the song goes on. The track itself is a mid-tempo rocker with some neat guitar moments – especially leading up to the three minute mark.
This demo is a great offering. The guitar sound could be fuller; the thin top-end is a bit of an ear-splitter and has too much metal crunch. My main criticism, though, is the lack of track listing! Despite all this, The Fallout Theory prove that there is more to Malvern than a panoramic view across Birmingham and some bottled water.
Written by Fenton on
Steve Fenton writes in our music, words, and culture categories. He was Editor in Chief for The Mag and covered live music for DV8 Magazine and Spill Magazine. He was often found in venues throughout the UK alongside ace-photographer, Mark Holloway. Steve is also a
technical writer and programmer
and writes
gothic fiction
. Steve studied Psychology at OSC, and Anarchy in the UK: A History of Punk from 1976-1978 at the University of Reading.
Discover More Music