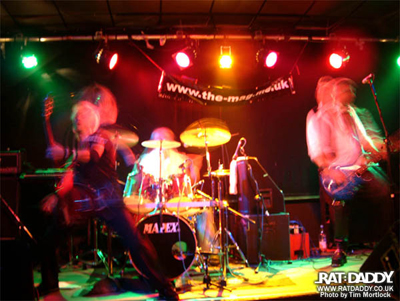 Four great bands, one packed out venue! The first ever MAG-NITE was essentially a showcase of some of the best talent that we've discovered over the past year of writing for The Mag.
Recently described by The Mag as 'A little bit fast-punk. A little bit EMO. A little bit hardcore', Not Advised kicked off the night with a phenomena known as the 'Big Bang'. Despite the energy expelled on stage, these guys still featured at the very front of the crowd for every other band that played tonight.
Kumiss followed, and 'Civilisation' was still the track that grabbed my attention, but the new material is growing on me like a Russian vine on a shed. We were completely rooted for their creative set.
A rare Southampton appearance from Uncle Blowfish that proves what we said about their Fusion Monkey EP… 'easily the kind of voice chart-show listeners would love, but thankfully employed in something a bit more creative.'
Answering once and for all the long standing question, these fella's are 'you're daddy' for sure. We previously said 'great melodic-rock songs delivered through a full-throttle performance… Rat:Daddy are quality. The backing vocals throughout the set were excellent, the performance was both natural and inspiring and there were enough songs in there to both demand your instant attention and to grow on you when you listen to a record a few times.'
Not a single person disagreed with us!
---
Rat:Daddy photography from MAG-NITE by Tim Mortlock.