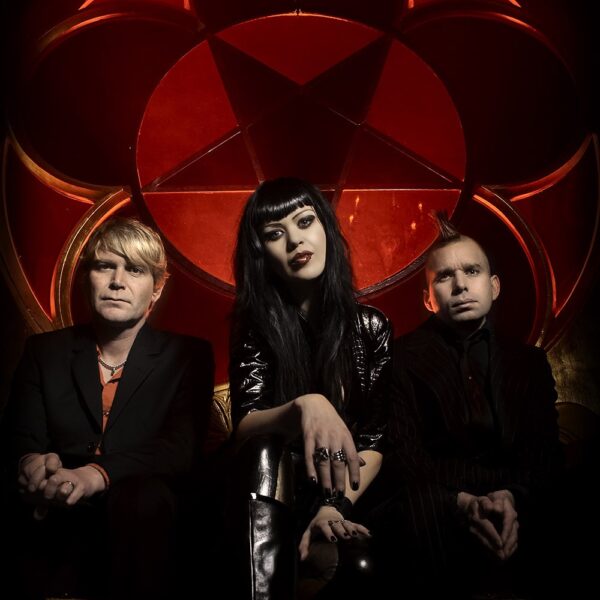 Die So Fluid
Live (Shard / Trauma Pet / Plastic Toys)
Shard had the task of kicking off proceedings and after a shaky start they just kept getting better. They settled into an androgynous and invasive performance with so much suggestive posturing, I didn't really know where to look.
With a sound that has elements of The Clash and The Cure, as well as a fair bit of rock and roll at it's roots, the image is a combination of sexually ambiguous Glam, such as Marc Bolan, and all out Molkoesque cross-dressing.
Stand out tracks surprisingly included 'Terminal Case', which worked well live after failing to impress me on the record. They could have been even better if they had started the show with the same confidence and energy that they finished with.
Electro-Goth duo, Trauma Pet, were up second with their vocal, bass, backing track combination. It was the backing track that needed some work; it was a think and lacked the atmospheric flood of bands such as Lunascape.
Elie's vocal was good and would be even better with some emotional force where the lyrics suggest it. She also shouldn't be afraid to pick up the guitar more often, as her ambient and haunting guitar line supplied their best track. The last time I saw Trauma Pet I was unimpressed. I can now see the potential of this band and can't wait to see how they develop their sound.
Plastic Toys launched into their set with a slick professionalism that complemented the American rock style. Hard hitting bass tones and punchy pop hooks all contributed towards an alternative sound on the more accessible end of the range. If you can imagine Rachel Stamp playing Marilyn Manson's Mechanical Animals with Billy Corgan on vocals, you won't be far off their sound.
Whether the songs translate from live performance to record will be interesting to see, as the instant appeal of the tracks live could well mean a fairly predictable throw-away album, which will probably require some kind of parental guidance sticker, judging by the level of pointless swearing in the lyrics. Plastic Toys are a tight live band with appealing music and lots of energy. See them live before you buy their record.
With album 'Spawn of Dysfunction' due for release on 9th August 2004, Die So Fluid played a set full of tracks from the forthcoming release.
The songs switch from rock to punk to metal and there were no two songs in the set with exactly the same feel. Recognisable songs included not only the three singles and recent pre-album teaser 'Bitterness by Discipline', but also songs that, having heard them at previous shows, had remained firmly attached to the 'memorable song cortex' of the brain.
The anticipation has now reached overload. We can't wait for the album any longer. Luckily, a promotional copy has arrived, so we can tell you all about it soon. DSF are an unbelievably brilliant live band.
Written by Fenton on
Steve Fenton writes in our music, words, and culture categories. He was Editor in Chief for The Mag and covered live music for DV8 Magazine and Spill Magazine. He was often found in venues throughout the UK alongside ace-photographer, Mark Holloway. Steve is also a
technical writer and programmer
and writes
gothic fiction
. Steve studied Psychology at OSC, and Anarchy in the UK: A History of Punk from 1976-1978 at the University of Reading.
Discover More Music