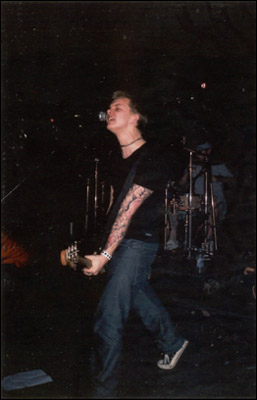 Route 215
Live (Odd One Out / Flaming Homer / Fastlane)
Tonight's gig at The Joiners, Southampton, was a demonstration of how originality can sometimes be less important than quality. In fact, that statement could even be a little unfair as there was some innovation on show… But the point is, the quality was the factor that shone through on this occasion.
'Odd One Out' were the first on and also the first demonstration of the point in question. Not likely to ever be the odd one out musically, with a fairly popular fast punk sound, the showmanship and musical ability is what made them worth watching. They stand apart from the myriad messy bands that bang out vastly more cliché renditions of this style.
On any normal night they would have got the next band on incredibly nervous, being a very hard act to follow after setting the musical standard so high.
Flaming Homer, however, took the stage with the single purpose of proving that they are the best at what they do, which is a sound akin to Hundred Reasons. They have a triple-option of incredibly good singers positioned behind guitars and bass.
The standard of the music was high, but the edge that Flaming Homer had to offer was those three part harmonies and vocal lines that bounced off each other in the style of early Jimmy Eat World. You should feel fairly disappointed about missing this band if you haven't seen them yet.
Fastlane managed to surprise everyone by maintaining the impressive quality of the night, sparking the transition to a rockier style that prevailed for the remainder of the night. The singer made a point of getting about the stage and making plenty of eye contact with crowd to make sure they were listening. For the third time in one night, the band were next to faultless in their delivery of some hefty songs.
Final band on, Route 215, were the rockiest band of the night with a set full of eminently listenable songs with two strong vocal offerings and plenty of performance.
Throughout the night there was a distinct lack of the usual ebb that music lovers have come to expect as being a part of normal gig-going life, just a lot of quality and effort from four really good bands.
Written by Fenton on
Steve Fenton writes in our music, words, and culture categories. He was Editor in Chief for The Mag and covered live music for DV8 Magazine and Spill Magazine. He was often found in venues throughout the UK alongside ace-photographer, Mark Holloway. Steve is also a
technical writer and programmer
and writes
gothic fiction
. Steve studied Psychology at OSC, and Anarchy in the UK: A History of Punk from 1976-1978 at the University of Reading.
Discover More Music