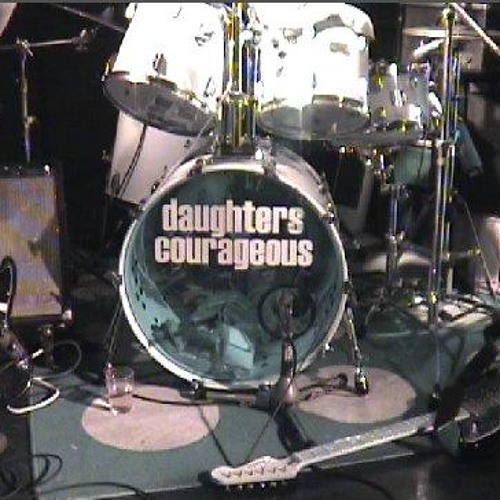 Daughters Courageous
Psammoma Bodies
Daughters Courageous are one of the best kept secrets of the music industry, convincing just about everyone who's heard them that they should be far better known than they are. To find out if the excitement is justified, we gave recent single 'Psammoma Bodies' a spin in our CD player.
The title track flies off the start line with a cliff-face of an opening riff that contains speaker-ripping guitars, massive bass, and a battering of drums that sound like a twenty-one gun salute (so long as you play the track at the volume it deserves.) The vocals have an air of grim determination amongst the melody and it's not difficult to believe that these chaps mean every word.
'Courageous Daughter' has a great bass line that starts of simple and high up to disguise the fact that it's going to drive the song with a running line throughout the verse. This track is a great example of a loud verse and quieter chorus, in contradiction of the norm.
Quirky rock is the order of the day in 'Cramps in Tight Places' with discordant guitars and grinding rhythm. A distorted vocal line pricks up the ears and a little sparse break with a drop in overall volume gives the guitar space for a solo.
Ean Horlock's vocal does a lot for this band, holding a melody whilst sounding more gutsy than you'd expect on record. While we're at it, the rest of the band do plenty as well; keeping the sound as tight as… well, it's probably best to mention no names here but the metaphor involves a miserly magazine editor and his purse strings.
Basically, 'Psammoma Bodies' is the kind of track that could let Daughters Courageous break into the singles chart (using the hooky chorus as a crowbar) and be out of harms way before the commercial police get a hold of them to force them to have stylish haircuts and red carpet appearances.
If you've heard them, you know what I mean.
Written by Smith on
Stuart 'Saur' Smith was a prolific writer for The Mag throughout the magazine's lifetime. He combined a day job of temporary office jobs in London with a nightlife of trawling the capital's music venues looking for talent. As well as writing about music, he was a session musician who featured on a number of singles in the 90s. Today, Stuart is a Chief Writer for Phonotonal.
Discover More Music