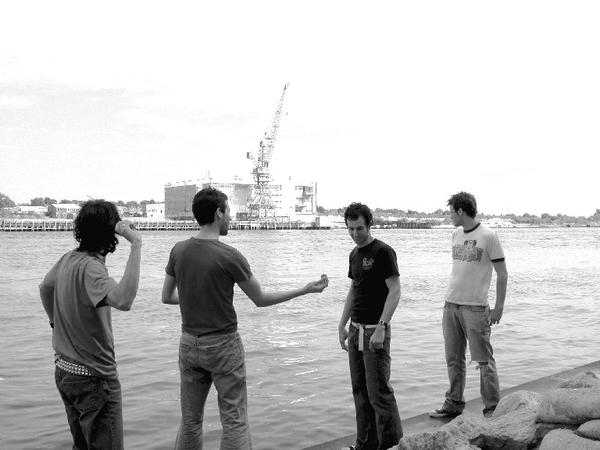 Daughters Courageous
Twilight Afflictions EP
Daughters Courageous have taken their time in putting together a follow up to last year's 'Psammoma Bodies'. However, I have it on good authority from the Grolsch guy that these things shouldn't be rushed.
Sliding into life, 'Twilight Afflictions' has misty guitars that create a drifting build up as the song gets larger and larger. The song reaches its peak with all the instruments belting out a full-on final crescendo before the last note strikes an end worthy of this stunning track. The same can be said for 'The Manacle', which continues the trademark sound while adding some crunch to the guitars before 'Circadian' supplies an ambient piano ending that gives a few moments for contemplation – which is about all the time you need to decide to play this record again.
The reason I haven't mentioned the second track until last is because 'Face the Last Wall' is the real deal-clincher for Daughters Courageous – we know how brilliantly they pull off the epic emotional and atmospheric songs, a style that they pretty much own. However, this is a moment of upbeat anthemic genius that not only adds that whole other dimension to this record, but sits well under the description of absolutely blinding.
With songs that offer slices of genius at every turn, with intriguing guitar solos, creative drumming and melodies that refuse to be anything other than top notch, there is absolutely nothing bad about this record at all. In fact, this record is so good, we can only hope that it's the Budweiser bloke that dictates the release date for the next one.
Written by Fenton on
Steve Fenton writes in our music, words, and culture categories. He was Editor in Chief for The Mag and covered live music for DV8 Magazine and Spill Magazine. He was often found in venues throughout the UK alongside ace-photographer, Mark Holloway. Steve is also a
technical writer and programmer
and writes
gothic fiction
. Steve studied Psychology at OSC, and Anarchy in the UK: A History of Punk from 1976-1978 at the University of Reading.
Discover More Music