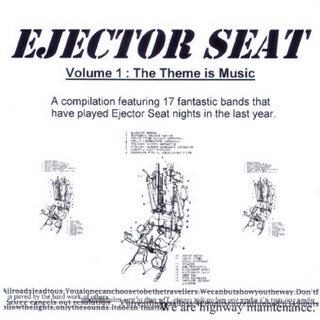 Ejector Seat
The Theme is Music LP
Compilations. They typically contain somewhere in the region of twenty tracks and each song is usually worth a mention. Great news for music lovers but, not so good for those of us that need to write about them.
If it was twenty tracks from the same band, you would be able to picture the flowing thread as the band evolves through a set of ingenious songs, each one building on the success of it's predecessor (or of course write it was too long and bored you stupid depending on the record!) With a compilation its different. Here you have a series of self-contained works that don't really bear any relation to any other song – except that, for better or worse, they find themselves surrounded by all these alien sounds.
Ejector Seat's seventeen-track compilation, marking the first birthday of the eponymous Southampton music promoter, is definitely a diverse catch. It is a showcase of the best bands to have played their live nights over the past twelve months. On the basis that I may only be able to hold your attention for another minute, at best, I've decided to concentrate my efforts on the more intriguing bits. So sit back, relax and discover what 'The Theme is Music' has in store…
The first track, and first mention, goes to the electro-rock sounds of Turncoat's 'Heads Above Water', which blasts its through a spikey and disjointed series of riffs and hooks that sit half way between Muse and Franz Ferdinand. This band create a heavily built up landscape of sounds and force you live in it (for a few minutes at least).
Alaskan Pipeline's 'Grandfather Clock' takes the compilation down a different street with it's emotional indie-symphony and floating vocals. The bass glues everything together while the guitar takes turns playing atmospheric, quirky and subtle pieces that slot neatly into the moods created by the vocal.
Black Nielson pop up with a pleasant track that combines a Louise Wener style vocal with jangly guitars to form 'Falling in the Black'. Together they plod along rather superbly to create a sunny little track that stimulates the aural taste buds with something of a new flavour (somewhat of a common occurrence on this record).
The Sways pop up ultra-different with 'Carbonate Ballet', being a Kate Bush journey down a bizarre tangent. Brave stuff, which certainly gets this track noticed!
'They Went Insane' by the Tri-City Presidents is packed full of sparkly guitars and pre-britpop drifting vocals. Drums shuffle, guitars plink and plonk and something drones in the background like a small propeller-plane drifting overhead. With the title also supplying all of the lyrics, there isn't much room for analysing who it was that lost the plot (or why), but at least the song turned out okay!
Lake Aurora's 'Think About the Words' forms itself out of a nifty guitar part, due to be banned in guitar-shops everywhere should they get famous. The vocal gets a gentle treatment and the bass, though subtle, adds some weight to the song.
'Belted in Safely' by Dlugokecki floods the speakers beautifully with pleasing melodies, interesting guitars and a rhythm that will remind you of Jem. The song is neatly subdued after each chorus and the verse receives subtle additions as things ease towards the chorus.
With a gruff sound that is, perhaps, a little unsympathetically placed after such a melodic effort, Ill Starred Captain rock and roll their way through 'Trouble'. This is a no-nonsense 'let's get it on' song with hints of Free and Steelers Wheel. The vocal does the style justice with a cocky and un-strenuous vibe.
I haven't mentioned the worthy offerings of Soma High, Daughters Courageous, A World Asleep or Versonic (nee The Sonic Underground). This isn't because they aren't brilliant, but simply because we've already told you all about them in past reviews, so have a dig around to find out more about them.
As far as the compilation goes, the disconnect between the songs will probably mean that owning this CD will cause you to memorise exactly when to press 'skip', depending on what you're in to, but it does do a good job of showcasing some very talented bands.
Written by Fenton on
Steve Fenton writes in our music, words, and culture categories. He was Editor in Chief for The Mag and covered live music for DV8 Magazine and Spill Magazine. He was often found in venues throughout the UK alongside ace-photographer, Mark Holloway. Steve is also a
technical writer and programmer
and writes
gothic fiction
. Steve studied Psychology at OSC, and Anarchy in the UK: A History of Punk from 1976-1978 at the University of Reading.
Discover More Music