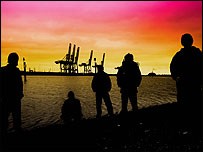 Hijera
The Seedy EP
Initially formed in 2000, Hijera have steadily been tramping the beat around Southampton's music scene the last few years, building up their fan base and promoting (with EQD) their own 'Grey Matter' nights of live bands and DJs. More recently they have also been recording their own tunes from their base in The Green Room with 'The Seedy EP' being their second release to date.
'Ten Thousand Eyes' kicks off the EP with a funked up feel good track with added grittiness courtesy of the funk/rock guitars. The vocals are a class act with Andy Feilder's laid back Ryder-esque delivery giving this tune some urban attitude leaving the splendid yo-yo/driving bass to add that danceable groove. In fact the overall impression is of a song lifted straight from the Baggy era and simply updated with some cracking effects that work well with the tune, whilst being careful not to overpower it.
'Skin Deep' immediately sets to work chilling things out with an acoustic laid back groove set to a trancelike backdrop. While relaxed in tone, the tempo remains reasonably high driving the track forward to the first break where squelchy keyboards/bass synth take up the reins, with that funk guitar arriving just in time to ensure all your toes are tapping. Dropping back to the initial chilled groove Feilder's vocals take a more Tricky turn and in doing so gives yet another pointer to the cauldron of influences going on in there – baggy, leftfield dance, Britpop, Indie and just plain old funk, its all going on.
Next up its time to get those smoking slippers out from under the couch and roll a fat one as 'Close' arrives in the form of a horizontal line of drum and bass with that funky twang. While not as hooky as the previous tracks the mid-tune break allows a harder, welcome edge to take control before slipping back to that floaty melody.
'Father Time (Remix)' sees the appearance of an uptempo sub-dub effort with Feilder's vocals getting the trance treatment, al la Kasabian. Chuck into this an expansive cinematic choir sample, then bang up the beats, tweak in some air flying samples and before you know it Hijera have a ready to go dancefloor filler on their hands. A quality tune, especially as it still manages to retain a sense of menace despite being totally ear friendly.
Final track 'Closer' sees Leftfield inspired FX and drum and bass beats upping the ante in the tempo stakes and providing the sort of tune that makes you want get your glowsticks out if you hadn't already used them up during 'Father Time'. It is also the sort of tune that underlines the fact that the only thing you can predict about the next track on this release is that its going to be interesting.
Clearly Hijera have a whole host of influences of which they eagerly draw from everyone. Its fair to say that often, the injection of such a range of influences into one EP – in fact one make that one tune – can result in something sounding like the musical equivalent of a car boot sale – a motley bunch memory jogging objects that initially look like a top bargain but invariably ends up in the back of the garage. Not so with Hijera. In chucking in everything they know they've remembered the golden rule of giving you only just enough of what you want that it leaves you wanting more – and in managing to do that they've successfully crafted their own hybrid sound which is both eminently accessible yet underground and dirty.
All that and they've even managed to get a picture of a Grand Torino on the cover – top stuff!
Hijera Articles
Written by Habert on
Pete Habert was sub-editor for The Mag and co-ordinated submissions from the swarm of writers that contributed articles from their local music scenes.
Discover More Music