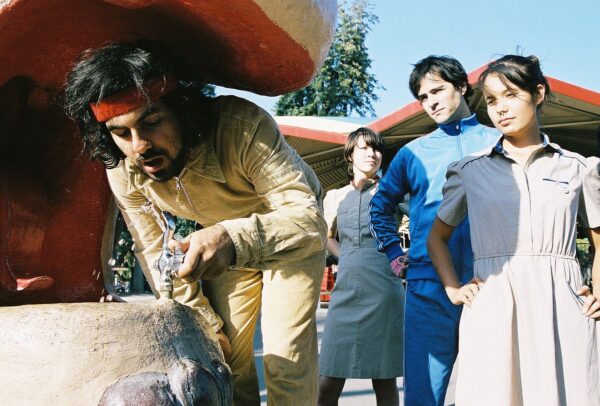 Rademacher
Rademacher EP
Citing names such as Earlimart and Grandaddy as their major influences, Californian four piece Rademacher are an indie band with eccentric qualities. However, what they bring to the quirky-indie genre is a Californian warmth and assurance that gives the songs the potential to appeal to a wide audience.
The opening track, 'They are Always into That', has a rolling and pulsating combination of drums and bass guitar with a watery guitar sound. The vocal disguises what is a really hooky melody with some radio-sound treatment which adds to the unhinged feel that the song has.
It's the drums that get the strange sound effects in the second track, 'Courtesy Call', with a detached cymbal noise overlapping a fat-sounding bass drum and gentle snare. The acoustic guitar conjures up the Violent Femmes, while the bouncy vocals and drums are reminiscent of cult-indie legends Pavement – a theme that continues into 'What the Neighbours Don't Know', which has an infectious guitar intro and subtle keyboards that warm up the stark sound.
Final track, 'Robot Show', has an up-tempo bounce and sparkly guitar sound that is heavy with reverb. The main divide is created by the drums, which switch between a flowing beat and a stuttered rhythm.
Rademacher have every right to be well pleased with themselves with this record. All four tracks earn their keep with plenty going on to keep you listening right to the end, several times in a row. You don't even have to be a major indie-fan to get into this great EP as loving it is easy, leaving the task of slipping the CD and inlay back into the funky hessian sleeve to be the only struggle.
Written by Smith on
Stuart 'Saur' Smith was a prolific writer for The Mag throughout the magazine's lifetime. He combined a day job of temporary office jobs in London with a nightlife of trawling the capital's music venues looking for talent. As well as writing about music, he was a session musician who featured on a number of singles in the 90s. Today, Stuart is a Chief Writer for Phonotonal.
Discover More Music