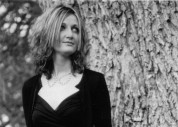 Sair
Falling In EP
No, this isn't a spelling mistake of my name and, unfortunately, the rather attractive looking lass pictured herein is also not me.
Sair, which is possibly an abbreviation of the name 'Sarah', formed after Sarah King and Ben Corrie met at Southampton University and started playing their own brand of piano and vocal songs.
'Falling In' contains five tracks, with a theme throughout of sparkling piano, Hammond organ, subtle acoustic guitar, and a fantastic voice. This foundation sees the occasional addition of other instruments at times, which certainly adds to the already classy feel of the songs.
A minimal introduction of Hammond and vocals, with violin creeping in, brings us 'September', which finds a chorus through a gentle build in the instrumentation and melody that gets bigger each time the chorus comes around.
'Love Only' is a song with the feel of a soundtrack number that uses waves of volume to build the song in to epic crescendos and then pulls everything back down after the chorus.
The more conventional smokey club feel of 'Near' is a contrast to the previous tracks, an image that is only added to by the warm tones of a saxophone and the icing on the cake, 'Spiral', is an emotional ballad with a nifty acoustic guitar solo.
There is one thing for certain with Sair, we haven't received anything like this before. The piano remains unpredictable and fresh and King's voice is faultless.
If you want to hear something very different, get on to their website and check out the delicate beauty of their music.
Written by Smith on
Stuart 'Saur' Smith was a prolific writer for The Mag throughout the magazine's lifetime. He combined a day job of temporary office jobs in London with a nightlife of trawling the capital's music venues looking for talent. As well as writing about music, he was a session musician who featured on a number of singles in the 90s. Today, Stuart is a Chief Writer for Phonotonal.
Discover More Music