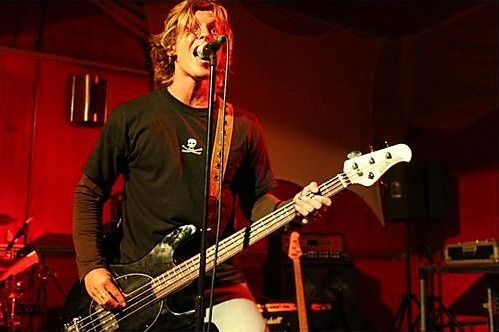 Not Advised
Live (Spencers Parade / Uncle Blowfish / Get Amped)
Spencers Parade were the first band on after the published opening time of 8pm, meaning Reserved for Nothing got missed this time around. Playing a crossover between punk rock, and metal, there were a couple of tracks that really stood out in their set.
The drums let the sound down a couple of times with some messy errors, but the bass, guitar, and vocals all seemed to be heading in the right direction.
Spencers Parade were at their best in the moments that had a little bit of a Greenday flavour. This isn't to say that they sounded like a punk revival band, but there were sections in the guitar rhythm and in the vocal that brought Billy Joe to mind. They need to polish the quality of the live performance and pull out some more of the memorable hooks, such as the syncopated ska breakdown in their best song, if they want to get a bit more notice.
Uncle Blowfish started strong with 'Here I Go Again' and didn't let up for the duration of their thirty minute EMO/pop/punk set. A bouncy performance and some big grins proved that they were enjoying themselves and this proved to be infectious; spreading out into the crowd within seconds and causing an uncontrolled outbreak of grinning and head-nodding.
All of the tracks from their EP translated really well to a live set and the other tracks on offer had some great hooks and tight stops that made them real contenders amongst a collection of strong material. Uncle Blowfish have got a commercial appeal that is hard to ignore with a sound that roams pop territory without sounding like sell-out nonsense.
Get Amped were the penultimate band on offer and were a demonstration of what an extensive tour schedule can do to tighten up a band. These three guys have moved on so far in such a short period of time that it's hard to remember that we only heard of them for the first time in January – and they hadn't played a single gig at that time.
Get Amped are getting very close to being the finished product, so if you haven't seen them yet, try to get to one of their shows or risk having to see them for the first time on your TV set, rather than in the flesh (which they tend to enjoy showing off!)
Not Advised didn't have their best night ever, suffering from a condition that has affected many a band in their position; with three gigs already this month and four booked in the next couple of weeks (all at the same venue) they are starting to come down with a case of 'comfort zone'. This condition manifested itself in a performance that was below their usual standard with mistakes creeping into a sound that has previously proven to be quite polished.
My personal recommendation for these guys is to take a break from playing The Joiners for a while so the next gig can be fresher… instead of enduring what must now feel like a weekly routine.
Not Advised are a great band, but they need to cut back on hometown gigs and spend some time widening geographically and tightening up the loose muscles that are starting to slow down the energetic EMO Hardcore machine.
Written by Fenton on
Steve Fenton writes in our music, words, and culture categories. He was Editor in Chief for The Mag and covered live music for DV8 Magazine and Spill Magazine. He was often found in venues throughout the UK alongside ace-photographer, Mark Holloway. Steve is also a
technical writer and programmer
and writes
gothic fiction
. Steve studied Psychology at OSC, and Anarchy in the UK: A History of Punk from 1976-1978 at the University of Reading.
Discover More Music