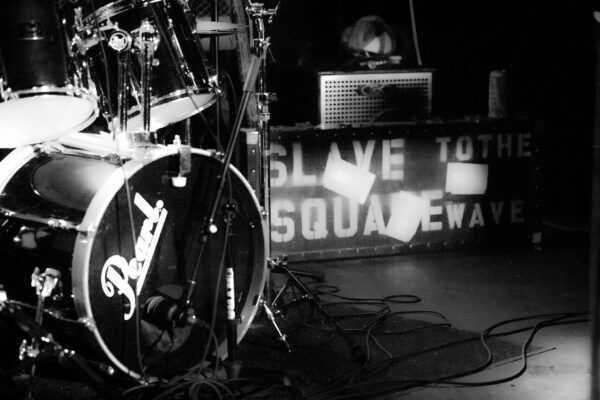 Slave to the Squarewave
Interview
Canada's Slave to the Squarewave have been causing quite a storm in Montreal with sell out live performances that have received nothing but praise. But why the hell should the UK give a toss, I hear you cry?! Well considering Canada's biggest unsigned act will shortly be unleashing their alternative pop sound and electrifying performances on an unsuspecting UK, we tasked The Mag's Steve Fenton with a mission to find out what Slave to the Squarewave are all about and just what is in store for us humble British punters…
Despite the obvious problems of trying to remember who you spent 6 hours of the previous night talking to, co-founder, Rob Stuart, first met up with singer Colin Troy at a rave which they were both playing, back in 1997.
We wrote the first CD and the rest of the guys came on when we were ready to play live. We draw our inspiration from anything and everything. Members of the band have their definite influences. For example, I love Kraftwerk, Colin is into Tom Jones, Don loves Toto, Andrew loves Jeff Beck, and David loves the Stranglers. We take all this and mash it up until we come up with something interesting that hopefully doesn't sound typically Canadian.
Last year Slave to the Squarewave won Best Singer, Best Guitarist, and Best Band at the Emergenza Festival, played the German Taubertal Festival, played a sell out Canadian tour, received two standing ovations in Montreal's Club Soda, and opened for The Fixx and Gloria Gaynor.
Impressive stuff I'm sure you'll agree! However, you'd be wrong if you thought the band members retired to their country estates after a year of celebrity, as Rob points out…
Colin is a waiter, Don works as a manager for a Toronto newspaper, David drives a bus, Andrew works as an engineer at the CBC (Canadian Broadcasting Corp), and I am an unemployed bum doing odd jobs to pay the bills although It does have its advantages; I've been mixing a bunch of new songs all morning, so I do try to make good use of my time! Colin writes all the lyrics for the band. He tends to draw from simple observations that occur in everyday life. I know he gets a lot done when taking the train into work.
Slave to the Squarewave's live performance has been described as 'a true marriage of visual and audio experience' and 'one hell of a show'. As you can see their gigs are all about entertainment, or as Rob puts it:
Our shows are uninhibited, fun, and highly entertaining. We start off with a bang and climax with an explosion. Most people who see us for the first time are like deer caught in the headlights although some people get it right away. We know that Europe and especially the UK would love us, as you lot tend to be more open-minded.
The Taubertal Festival also introduced Slave to the Squarewave to bands from all over Europe and North America. One UK band caught their attention.
We love the lads from Toupe. We are in touch with them quite often. They would be great to do a tour with, as they are a fantastic live band and a good bunch of chaps to boot!

We are all very different individuals that bring their own ingredients to form a great recipe. New Wave + Old Wave = SQUAREwave. Come and see what all the fuss is about and be transformed into a SQUAREhead fan. We guarantee you won't be disappointed.'
Written by Fenton on
Steve Fenton writes in our music, words, and culture categories. He was Editor in Chief for The Mag and covered live music for DV8 Magazine and Spill Magazine. He was often found in venues throughout the UK alongside ace-photographer, Mark Holloway. Steve is also a
technical writer and programmer
and writes
gothic fiction
. Steve studied Psychology at OSC, and Anarchy in the UK: A History of Punk from 1976-1978 at the University of Reading.
Discover More Music