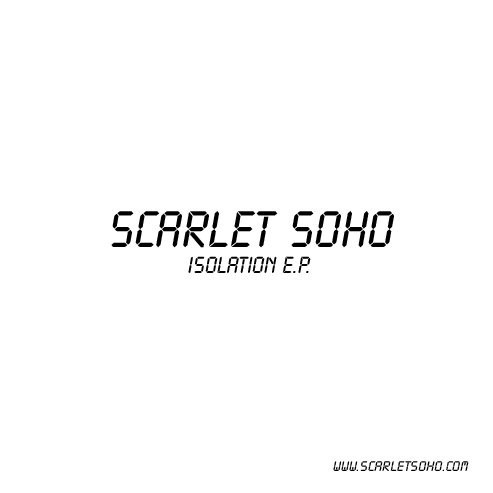 Scarlet Soho
Isolation EP
Good things are happening in the world of Scarlet Soho. Not only is their debut album a few months away from release, but an extensive tour, planned to coincide with the album, is soon to be announced.
Exciting times, I'm sure you'll agree! But, with a summer void of live shows what do you do to fill the gap? A good option would be to bang out a little taster of what's to come – and this is just what Scarlet Soho have done.
Paired with two additional tracks ('Tried, Tested, and Failed' and 'Useless') and the video for the title tune, 'Isolation' is the first track to be taken from their much anticipated, forthcoming debut album.
Now it would be easy for the listener, upon hearing Scarlet Soho for the first time, to simply hang a retro-electronica tag on this band and confine them to the ranks of copycat 80's bands. However, while comparisons to the likes of Depeche Mode are obvious (and indeed justified), there is so much more going here then a band paying tribute to a bygone era.
The title track is a good case in point. 'Isolation' clearly has its roots firmly entrenched in that retro/futuristic pop sound yet it has managed to look around, realise that the world has moved on 20 years and grow up accordingly. Gone are fluffy light overtones of the likes of the Human League and in are the dark digital undertones of the Goth/Industrial era. While clearly poppy in nature, with a catchy chorus to boot, 'Isolation' has a much harder edge its forefathers never had and for this we can only be thankful.
The other two tracks, which apparently won't be included in the upcoming album, are a good indication of the range this band is capable of and hint at the potential quality of their debut long player.
'Tried, Tested and Failed' is a deep two minute lament which has all the trappings of a popped up, epic version of NINs 'Hurt', but is much too short to realise this sort of potential.
'Useless' on the other hand, is a pumped up, industrial power-pop of a tune. The synths wickedly generate a foot tapping dark backdrop while the overdriven guitar adds the welcome punch. However, all of this is simply quality packaging for the soaring vocals, which are delivered with a range and power that renders this track something akin to a digital version of a top-notch Mansun track i.e. it's bloody good!
Combined, all three of these tracks show that Scarlet Soho have successfully managed to extract the good things from the electronic revolution of two decades past and then add their own twist to produce an updated sound, relevant to the current generation. 'Isolation' EP also serves as a welcome reminder that all pop is not necessarily pap. The album is justifiably, eagerly awaited.
Written by Habert on
Pete Habert was sub-editor for The Mag and co-ordinated submissions from the swarm of writers that contributed articles from their local music scenes.
Discover More Music