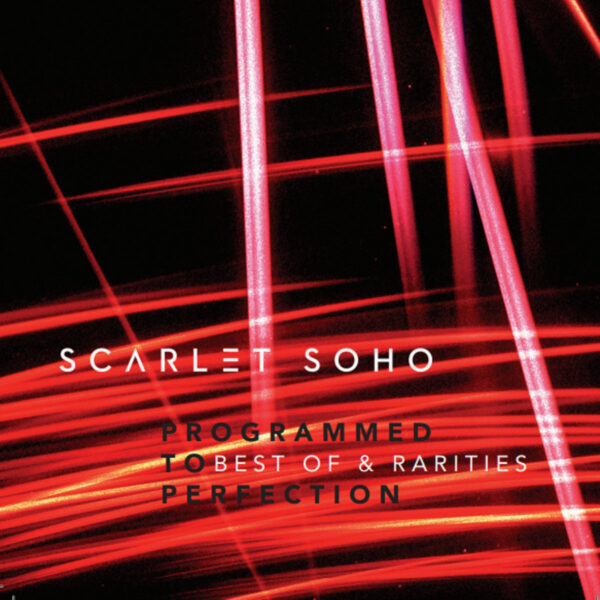 Scarlet Soho
Programmed to Perfection LP
This November, Scarlet Soho return with an epic anthology of more than thirty songs amassed over twenty years of songwriting. With songs taken from Divisions of Decency, Warpaint, and In Cold Blood, there is a great deal of synthpop on offer, so let's have a quick spin.
The title track is as good a place to start as any, with its Sweet siren intro and seventies rhythm. The stomp of this track is unusual for a synth track, but it works, well, to perfection. Structurally, this song throws everything at the chops and changes, the stops and starts – and it shines for it.
Randomly shifting through the track listing we find 'Speak Your Mind', a dark wave fuzz with a pop chorus. The bass throbs beneath the distorted synth, with some crystal motes floating above. Prominent guitars introduce 'Pseudo Sushi', with eerie vocals descending like a mist to reside low-down in the mix.
Demo versions of 'Wire Me Up' and 'Daylight' have a high level of polish, not sounding at all out of place amongst the other recordings. This brace of sparkly synth tunes are amongst my favourites on the recording.
The tail-end of the collection gathers together all the remixes, with seven great reimaginings of songs like 'Solo KO', 'When The Lights Go Out', and 'In Cold Blood'.
Slated for release on 16th November 2020, you can order Programmed to Perfection on Bandcamp. It's available as a digital album or a retro compact disc. As well as all the music, there's a full colour booklet with unseen photographs from the band's own archives.
Written by Fenton on
Steve Fenton writes in our music, words, and culture categories. He was Editor in Chief for The Mag and covered live music for DV8 Magazine and Spill Magazine. He was often found in venues throughout the UK alongside ace-photographer, Mark Holloway. Steve is also a
technical writer and programmer
and writes
gothic fiction
. Steve studied Psychology at OSC, and Anarchy in the UK: A History of Punk from 1976-1978 at the University of Reading.
Discover More Music