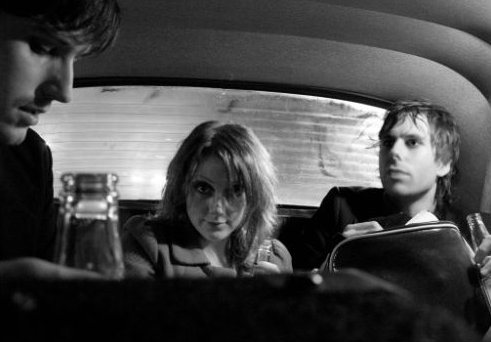 Scarlet Soho
Live (Encyclopedia / Tomboy)
I didn't know, but I was in for a mixed bag at The Joiners. I had turned up in all innocence, not even aware of the full lineup for the evening, and, to a certain extent, I had almost convinced myself of a night stuffed to bursting with electronica. This wasn't the case, though, as there weren't two similar bands on the bill… for better or worse.
Encyclopedia kicked things off with two guitars and a sequencer. The front man definitely gave the impression that he knew something I didn't with his permanently fixed smile, which was a fair reflection of the happy-go-lucky pop. I couldn't decide whether this was Wheatus crossed with Daphne and Celeste or if it was more like a camp version of The Early November.
Either way, it was the first song that stole the show, with the remainder of the set failing to live up to the opening, at worst sounding a little too much like 'The Boys are Back in Town'.
Tomboy surprised me with their set, as they sounded nothing like the band I remember reviewing in 2004. In fact, every record seems to be a different genre, from their melancholic debut through to their latest up-tempo pop record. Today, they sounded a bit like The Jam verses Franz Ferdinand, which I don't think does much credit to the plethora of styles they've captured on their three EPs.
The drumming didn't help the set much; I would have said it was pretty much the same beat throughout, except that the final track had something a bit different going on. Tomboy are, musically, very together, but more variety is required to break up their set.
Scarlet Soho started in the strongest possible way with exceptional energy and really strong vocals. This show was something of a warm up for their appearance at La Fleche D'or in Paris, and with a home crowd to interact with, it was a very relaxed performance. Relaxed or not, once the chat was over and the song started, things were very serious. On top of the usual high-octane performance from Jim, there was a surprising amount of movement from Scarlet, who abandoned her static aloofness to embrace a new energetic bounce.
So things were saved from despair in the end, despite the ultra-laid-back performance. At the end of the day, there were tons of good songs such as 'Modern Radio' and 'City Behaviour' in Scarlet Soho's set, which made it all worthwhile.
Photography by Cosmic Egg.
Written by Fenton on
Steve Fenton writes in our music, words, and culture categories. He was Editor in Chief for The Mag and covered live music for DV8 Magazine and Spill Magazine. He was often found in venues throughout the UK alongside ace-photographer, Mark Holloway. Steve is also a
technical writer and programmer
and writes
gothic fiction
. Steve studied Psychology at OSC, and Anarchy in the UK: A History of Punk from 1976-1978 at the University of Reading.
Discover More Music