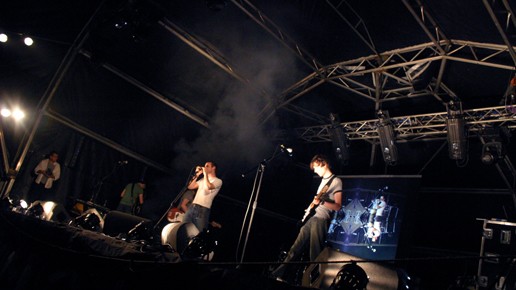 Belle Park
Different Pill
Belle Park describe themselves as a guitar and piano band with a rock/indie edge and what's on offer in the first track suggests a highly polished sound that fits this description exactly.
The piano intro is quite a simple affair, sporting a pleasant soft vocal. With the introduction of some solid drumming and subtle bass guitar, the verse of 'Different Pill' has an unashamedly open pop sound. However, the guitar tone isn't quite right for this track, with the electric riff suffereing from an overtly processed sound where a more natural crunch would have worked better.
'Jettison' has a funkier vibe that is fuelled by the bass line. This is also the case for the chorus where the bass provides the hooks and the drumming fills the track with energy. This song has the sound of early Placebo b-side 'Drowning by Numbers' apart from the vocal, which is more reminiscent of Daniel Bedingfield.
Final song, 'Catch the Sun', is halfway between the melancholy of 'Different Pill' and the energy of 'Jettison', sounding like the quieter moments of A Perfect Circle with an excellent guitar part that continues throughout and just a little cello added to break the song into distinct sections. 
What Belle Park have demonstrated, in just three songs, is an incredible diversity. All out indie-pop fans who revel in the likes of Travis and Coldplay will love 'Different Pill', but the real quality lies in the two b-sides that have lots of references to nineties rock, even though the presentation is more subdued.
There are also lots of layers to the music, with some very subtle keyboard and guitar work that gives the songs depth. The drums are faultless throughout and the vocal has an unassuming confidence.
If you make the effort to listen to all three tracks before you decide whether or not you like it, the chances are you will, because at least one of them should appeal to all but the most extreme of musical tastes.
Written by Smith on
Stuart 'Saur' Smith was a prolific writer for The Mag throughout the magazine's lifetime. He combined a day job of temporary office jobs in London with a nightlife of trawling the capital's music venues looking for talent. As well as writing about music, he was a session musician who featured on a number of singles in the 90s. Today, Stuart is a Chief Writer for Phonotonal.
Discover More Music