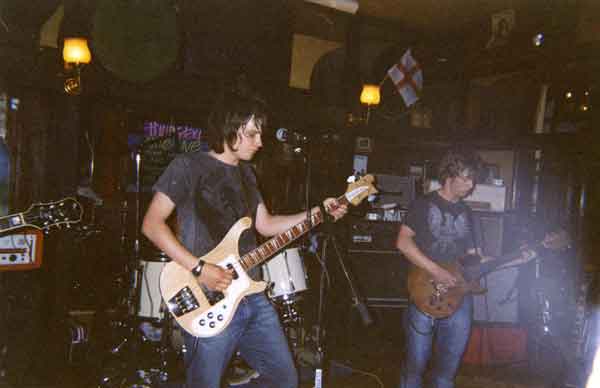 Cast Iron Shores
Live at The Old Ale House
Salisbury four-piece, Cast Iron Shores, took to the floor of their local pub, The Old Ale House, for the inaugral Kick Out the Jams night.
They played it as returning heroes at a homecoming gig; "It's good to be back", and the way the crowd responded to 'Thinking Of You' was like any hometown crowd's response to their band's most popular single (although maybe, like many bands, they're a bit bored of playing it?)
With their lively third track, 'Gun', the dual vocalists showcased their rough-and-ready mingled with pure-and-earnest harmonies that perfectly complement each other. The sound was at times a little distorted, but their songs have their own clarity which was able to shine through this minor technical difficulty.
After a slower number in which the guitarist took vocals on his own, they upped the tempo again with crowd-pleaser 'Caroline'. The Toni & Guy crew, who had previously slouched at the back looking cool, were now pressing forward and craning to see. The strong drums got feet doing something midway between tapping and stomping as the charismatic front man rollicked with his bass. Had the crowd been non-T&G, they would have no doubt been dancing to the 60s-influenced tunes, most of which would be ideal for a summery Levi's advert, or the obligatory 'singing along to the radio' scene in a road-trip movie.
The lead guitarist dazzled with a riff more elaborate and funky than John Squire on speed in the last track, 'Tell Me What You're Gonna Do Now'. Then, with a rock-n-roll drum ending, and refusing to indulge pleas for an encore, the show was over.
Energetic and choppy, Cast Iron Shores have certainly hit on a winning formula of being able to effortlessly write memorable catchy tunes that change tempo at will. The band have been busy touring universities playing these songs live and the set was so polished you could virtually see your face in it. The introduction of the new material they've been working on will help to keep it fresh for their fans.
Cast Iron Shores Articles
Discover More Music