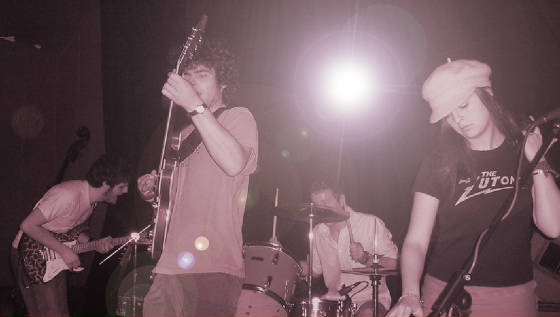 The Subterraneans
Cartesian Centaur EP
The Subterraneans describe their music as Mercurial Desiccated Rock and while there is certainly a mythological theme to the song titles (even if the mythology is neither Roman in orgin, nor focused specifically on the messenger Mercury) the sound is certainly more pop than rock.
Semantics aside, the first track, 'Legions of Eros', starts off with a quirky intro comprising of bouncing vocal duties between Suzi Gage and Jean-Marc de Verteuil before the main verse kicks in. There is a part after the initial verse with almost random noises that bring to mind old arcade games as well as frantic guitar chords.
The offbeat rhythm and vocal style of 'Velocipedes' harks back to the electro pop days of the Buggles, with a keyboard sounds that fits snugly with this comparison.
'Return of the Condor' features a guitar part that sounds backwards and has a stuttered flow to its rhythm that ensures the sound will never become background music. About two thirds of the way through the track an excellent break with staccato guitaring and dynamic drumming breaks up the limp of the song and is my favourite moment on the EP.
Final song, 'Hotel Terminus', is the first song to flow with its syncopated guitar pattern and standard(ish) structure. The vocal tennis that features heavily on this disk again stamps its trademark on this track with both sides overlapping each other.
Suzi's vocal is at it's best in the more angsty moments, showing a certain plucky depth that is absent from the more off-the-wall talky parts.
With a sound that is not far from the likes of Toyah, Roxy Music, and the Bosstones, The Subterraneans are like a busy street with lots of audio distractions. It can be quite confusing and I have to admit, it's all a bit too disjointed and crazy for me, but it's the kind of music that could get a big underground following.
Potential cult members should seek them out.
Written by Smith on
Stuart 'Saur' Smith was a prolific writer for The Mag throughout the magazine's lifetime. He combined a day job of temporary office jobs in London with a nightlife of trawling the capital's music venues looking for talent. As well as writing about music, he was a session musician who featured on a number of singles in the 90s. Today, Stuart is a Chief Writer for Phonotonal.
Discover More Music