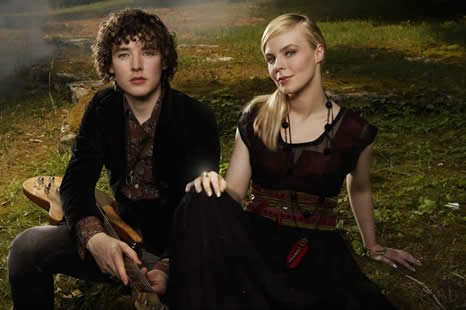 The Green Children
The Green Children EP
The Green Children. The band name suggests something earthy and, dare I say, a little 'hippy-esque'. The cover art seems to back this up, with a curly haired imp of a chap named Tom and delicate blonde elfin waif called Milla. Both are attired in natural fabrics and holding crystal balls. Could this be an acoustic guitar peace protest or maybe a harmonica and squeeze-box folk-in-the-forest record?
Mysterious keyboards begin to form a magical mist, ah-ha – this must be a Clannad-esque effort, so get ready to bring on the Gregorian chants… but hold the phone, a pumping dance beat kicks off with sparky synth bass accompanied by glassy high notes. This is distinctly different to the Dillon-style politics I was expecting. Milla's sensual vocal eases out a glossy melody with startling clarity and great awareness of the rhythm of the song.
The Green Children are no one-trick pony either, with 7 tracks on the EP that are all absolutely outstanding. The two tracks that really float my coracle are the fantastic 'Dragons' and the excellently melodic 'I See You'.
There is a surprising diversity on this record too, with the danceable opener finding itself lodging amongst some dark-electric pop as well as the intimate and steady 'Lost You' and the pumping serene-pop of 'Waves' – all fulfilling the brilliance of the record.
The common denominators are the intricate retro-electonic musical tracks and absolutely incredible vocal, which can be assured, seductive and tender with great awareness of melody. The music takes the best moments of bands such as Snap and the vocal is honey, covered in chocolate, covered in honey. Honestly, you will never tire of this voice.
All other reviews are on hold until such time as the editor crowbars his way into my flat and physically removes the CD from the hi-fi, or my dying clutch.
The Green Children Articles
Written by Smith on
Stuart 'Saur' Smith was a prolific writer for The Mag throughout the magazine's lifetime. He combined a day job of temporary office jobs in London with a nightlife of trawling the capital's music venues looking for talent. As well as writing about music, he was a session musician who featured on a number of singles in the 90s. Today, Stuart is a Chief Writer for Phonotonal.
Discover More Music