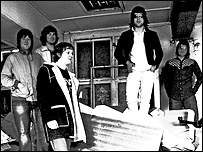 Ego-Armalade
Live (The Flow)
The boys from The Flow are quite unabashed and eloquent about their influences, to the extent that a quick look at their website almost makes the 'who do they sound like' bit of my review redundant. So, they were rather good. Goodnight!
All right, you want more, don't you? (Sigh!) It's a heavy, heavy sound, claiming direct lineage from Zeppelin and more recently modified by the Stone Roses with 'Second Coming' (expected critical rehabilitation date: the year 2525). When it's done well, this groove can shake you deep down in your bones. The Flow do it well, but that's not all they do.
Three songs in – after setting out their stall with some more typical stuff – they slide into a slowed down, definitely un-blissed-out number which can only be described as Ocean Colour Scene having one bad dream. This is what happened after the river ran red and the only appropriate record sleeve would feature Chris Evans painted by Francis Bacon. It works for me, in an unnerving way.
'Have You Ever Been Down' you may already know about and I'm in agreement with our editor here that this is an anthem for anyone who's been hit where it hurts. Hints of Reef here as well, and while all these namechecks for 90s Britrock dinosaurs might seem a bad thing, most of these did have one or two fine moments at least and that's the spirit evoked by the Flow. But if the Reef reference really freaks you out, close your eyes – it could be the young Ian Brown, wild and innocent.
Fine songs, substantial confidence (the bassist is in love with his musicianship, but why not?) and keen fans. All most promising.
Who, what or why are Ego-Armalade? I've just had the flu; I don't need a bloke shouting at me 'you've got a face like a drunk's arse'. I'm not sure if I'd need it anytime, thank you. The Arctic Monkeys in hell, anyone? (That wasn't a compliment.) Next song 'See No Evil' manages to make the Ordinary Boys look, well, extraordinary.
The bizarre change of tack, when they decide that in fact they're the Small Faces and damn good with it, is a bit of a shock, and a welcome one at that. They're quite good after this, as only a band whose drummer sings like Noddy Holder can be. I still don't know what the heck they are though, but they're intriguing at the least.
Written by McLaughlin on
Stuart McLaughlin was a regular write for [the-mag] and was frequently seen in live music venues in search of great new music.
Discover More Music