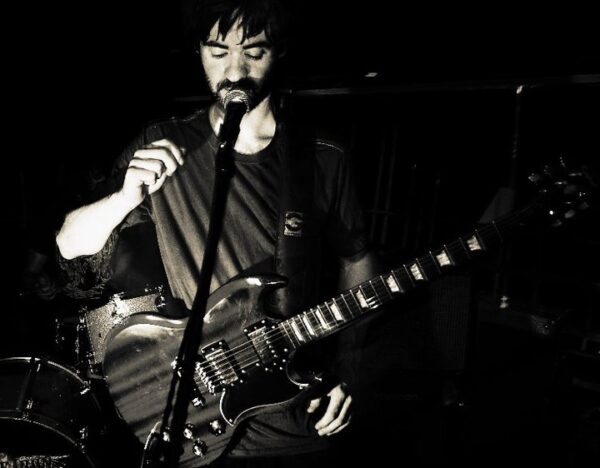 Stringmen
Live (Esther's Tomcat / The Dance Dirty / Empty Vessels)
Pub… Rock… Pub rock! Not to mention pub ska, pub oi, and, a dash of pub urchin-punk, and all from the first band! Esther's Tomcat are the Mighty Mighty Bosstones crashing out of the lager tree and hitting every branch.
An extremely select audience (namely their mates), the bar staff, and me are pleasured with excruciating feedback, an improvised set-list (methinks they forgot the original one) and a cover of 'Brown Eyed Girl' which is both deranged and somehow brilliant. I swear the singing, drumming bloke hits that note at the end of the last verse better than anyone since Van himself.
All this and a joke about a duck. These boys are unlikely to appear in any 'best newcomer' lists, but boy are they a riot!
Now I hate to go on about sound mixes and stuff, like your old Uncle Lou Reed in a grump, but it really would be nice to hear what The Dance Dirty are singing about. OK, I can guess they're singing about teen angst, but the one line I can clearly make out: 'If you want to cry just think of me tonight' rather appeals to me, like 'why must I be a teenager in love' did when I was nine.
The singer's yelp is fetching and what's more, I'm a fool for those oozing Bernard Butler-Pixies guitar licks, played simply but effectively by a bashful girl here.
As far as sanity goes, that's it for the night. Empty Vessels are not a band really; rather, they are the physical and audible manifestation of the strange, strange psyche of Matt Finucane. Observing this fellow, I can't help but be half-reminded of the Band's great 'Up On Cripple Creek' and the line about Spike Jones: 'She said, I can't stand the way he sings, but I love to hear him talk.' That's unfair on this charmer though, as his vocals are as compelling as his louche, drawling banter.
'In the Well' is as commercial as it gets, like '69 Velvets after they'd hidden all of Cale's scary instruments. The rest veers from tuneful to insane while always remaining compelling. Ooh look, there's Mark E Smith. Agh! Mummy!
Matt's private universe is irresistible. 'Monkey' hinges on the immortal hook 'I could be a monkey'. In 'Reassurance' he barks a lot, like a dog – depraved nursery rhymes is probably the best description. By the final torrent of consciousness, 'Guilty Pleasure' (which skips from the Parklife tones of 'Win me over, the White Cliffs of Dover' to an incessant chant of 'Now we're taking the hog to market!'), I have a vision.
It is this. Put this man in charge of our nation's pre-school music curriculum and our next generation will grow up with their inner ears on their foreheads and the sensibilities of Harry Hill seduced by the Dark Side, and a good thing too. Come on, you know it makes sense. Children are the future.
That's an act for Stringmen to follow, but it's not beyond them. I'm not sure why they reprint John Peel's son's comment about them being 'grunge' on their flyers. For sure, the best reference maybe the Pixies (for the sheer mentality of the performance, in every sense) and for sure, Kurt wanted to be Black Francis, who wanted to be a Debaser. However, each of these songs has far too many shades to go under such a narrow label.
Singer Peter Kemmett, the most laid-back bloke you could meet as far as I can tell, attacks every single song like it's kidnapped his kids. Maybe one of them has; these guts-out rock songs are dubious characters. Personally, I won't have that 'Welcome To The Jungle' in the house since the incident with the fish-knives.
Anyway, Stringmen speak of having spent the last two years becoming a cohesive rock unit and boy does it show. These songs are not only fearsome but complex, and they're played flawlessly even as Kemmett increasingly hurls himself into anything that might resemble 'kit'. For someone who, as far as I can tell, is hungover to perdition, he's ferocious and with real star quality too.
That's it from me. I'm off to take the hog to market. Ta ta.
Written by McLaughlin on
Stuart McLaughlin was a regular write for [the-mag] and was frequently seen in live music venues in search of great new music.
Discover More Music