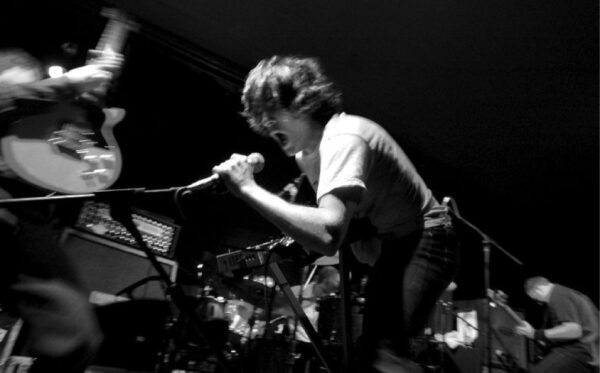 Hell Is For Heroes
Live (Instill / Get Amped / Easykill / Keiko)
The night was another hot seller from Chalk Ink Promotions, who have been acclaimed as the saviours of Bournemouth's music scene. And what a night it was…
First on Instill, a local band from Bournemouth, with a sound that reminded me of acts such as System of a Down and any classic heavy rock band. They were always going to be a crowd pleaser and terrific opening act with their quality music and humour like no other band, which included a story about going to the zoo with your mum, then a song about it with comical undertones. That said the band managed to keep a seriousness about their songs with the music.
The band played a tight set and was welcomed warmly by the crowd considering no-one expected a band like Instill on stage on a Hell Is For Heroes night!
Get Amped graced the stage next with their surfy pop/punk and given that they are known by a lot of people in the south there were high expectations. Their touring experience showed in their set combining powerful drumming, meandering guitars with solid bass lines and infectiously catchy vocal melodies and harmonies.
The crowd's reaction wasn't the best for GA but the band played a very strong set with well timed shenanigans including a pounding drum solo, showboating you may say, but their musicianship shows that GA are a band that refuses to be classed as a 3 chord pop punk band!
Easykill were playing with Hell Is For Heroes at Portsmouth, Bournemouth, and Plymouth. When I met the band just before the show, they seemed incredibly nervous but they came blasting on stage to receive a warm welcome. It then all kicked off with their second song with the crowd chanting along. This was followed by a slower number, which got the audience clapping with some classic moshing. The song was lead by a thudding drum and guitar complimented perfectly with the rocking guitars and distinct vocals.
Their stage presence is immense with their passion for their music flowing from them into the crowd, who moshed throughout the entire set, clawed at the band, sang along and even caught the guitarist.
Easykill's sound can be broken down into the following description; Mega solid rock missing hardcore screaming with angelic singing and a real raw punk ethic behind the songs. Definitely a band to look out for – Awesome!
Next on, tour support Keiko, a band I am previously familiar with, and a band more people should now by now.
Signed to Lockjaw Records, you'd expect a post-hardcore, Emo edge but Keiko do this and so much more, with funky tunes suddenly rearing off into an At The Drive-In style controlled mayhem. They go from mellow Indie sounding verses to immensely powerful progressive choruses making it look easy, but one listen to their musicianship shows how much the band work on their sound.
As a group they control so much of the stage and clearly have a great love for their music shown in some of their creative dance moves. Their constant touring, especially recently with Hundred Reasons and now Hell Is For Heroes, has led to a floorless set with perfectly timed audience participation stunts, including the lead singer/guitarist (Tom) climbing to the top of the PA and jumping into and then proceeding to crowd surf! True Showmanship!!!
And finally the band the crowd (which included most of the bar staff) were here for took to the stage and showed they were here for the crowd!
Playing an absolutely amazing set they warmed the hearts of their fans with old songs from their previous album 'The Neon Handshake' such as 'I can climb mountains' and mixed in some of their newer material from their new album 'Transmit Disrupt' released on Burning Heart and Epitaph Records.
The band played full heartedly, like they have something to prove, with the crowd singing as loud as the band.
Deserved headliners putting on an excellent show, filling the room with their sound and mastering both crowd and stage. Hell Is For Heroes are back to stay!
Hell Is For Heroes Articles
Written by Guest Writers on
Between 2003 and 2009, [the-mag] had regular contributors from music correspondents covering their local scene. You'll find them all in the guest writers section. The specific writer is mentioned at the bottom of each article.
Discover More Music