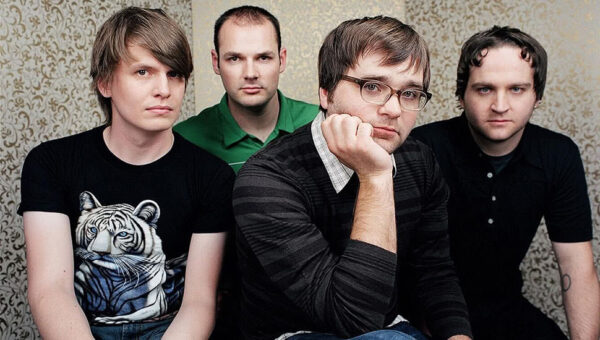 Death Cab for Cutie
Live (John Vanderslice)
Due to my recent habit of being fashionably late for gigs, I unfortunately missed the usual frenzied fracas of queuing in the big stone walkway leading up to the Pyramids' music hall/venue. Oh, how I miss stepping on discarded bags of chips and drained beer cans, shuffling round the stone wall corner to be presented with yet another run of slightly-uphill sloped pathway. Thinking about this takes me back to my college years when nu-metal was rife and the only cure was Oasis (they weren't pretty times). This isn't then though. This is now and we have much more to live for.
The opening songs of John Vanderslice's set sound pretty good from the box office foyer where I spend about ten minutes with our photographer negotiating entry. Once we are granted admittance my guest and I stroll into an extremely brightly lit room (in gig terms anyway). Lighting plays an often under-rated part in event atmosphere and tonight is no exception.
John Vanderslice projects a feeling of comfort, massaging us with their electronic indie grooves at a volume that seems to invite chatter between audience members. It's like a dinner party for the under 18s (I am definitely above the average age here tonight), with the only absent element being cheese and pineapple on sticks served by some youth in a penguin suit. I'm unsure as to whether the smell of burnt hair is part of the ambience; all I know is that I don't like it.
Vanderslice's set-up is nice and symmetrical (standing, sitting, sitting, standing), with the organist and drummer taking to the centre of the stage. These actually turn out to be the main driving instruments of their sound, with solid beats complimented by main riffs and hooks performed by the key/synthesiser player. Most verses are akin to soothing background music (minus the pan pipes) and the chorus' attempts to 'explode' in fits of happiness and clappiness, although the absence of dynamics and general low volume takes away from the impact between sections.
The front man is extremely chatty in a very American 'I love your quaint little town' sort of way and he sounds to me like a more lyrically safe version of Colin Meloy of the Decemberists.
As they finish their set I notice that the lights and general level of crowd noise stays exactly the same. I don't think half the audience even noticed the band playing.
What these rapscallions are really here for is Death Cab for Cutie; album veterans and major label newcomers with a venue upgrade and 246,723 myspace fans to call their own (makes my 24 'friends' look pretty pathetic). The lights go down (hooray!) and the stage and ceiling areas are illuminated in sea blues and bright sunshine yellowy reds, a stage show that would put most 'travel light' bands from overseas to shame.
The singer's voice makes me think of that 'California' song from The OC and the rest of the band's sound does nothing to change this impression. I can almost feel the sand between my toes. Oh no, that's a cigarette butt.
The upgrade from the Wedgewood Rooms would intimidate a lot of groups but for a band with Death Cab's huge musical sound, this venue suits them down to the ground. Epicness is what is needed to fill this huge room, a quality that DCFC produce in spades. Every song nails the dynamics that Vanderslice lacked, with each tune elongating the build to its crescendo and creating a hanging sense of euphoria that is reflected in a physical form by the die-hard fans belting out the lyrics whilst staring up at the ceiling with eyes glazed over.
It's like a hazy trip, but a clean, healthy, all bran type trip on a Florida beach with no hangover. Speaking of hangovers, I have absolutely no problems getting a drink when I want one tonight due to the fact that the majority of the crowd are either currently or pre-pubescent. I enjoy watching young teenagers fumble with fake IDs whilst trying their best to act eighteen. Ah the memories.
Anyway, back to the music. Although their rise in popularity has been very recent, Death Cab have actually released seven albums stretching back to 1997; evidence of which is on show tonight. It's easy to tell which songs aren't on 2006's Plans album by the looks on faces during the opening bars of each tune. Despite a lot of tonight's set being totally new to most of the crowd everything is fantastically well received; no doubt several old albums will rise in the charts in the aftermath of this tour. On the strength of the performance tonight this would be fully deserved; confident performances and epic ballads like this belong in stadiums as big as the conga line of drunken emo kids I saw emerging from the men's toilets. Rest assured, it was very big (although I think they got the conga song wrong, but I wasn't certain enough to correct them).
I leave tonight's gig with the impression that Death Cab for Cutie are deserving of all the hype they're getting after all and for a cranky old-timer such as myself this is quite an occurrence. I've made a lot of the age thing in this review haven't I? For the record, I'm 22.
Guest article from Matt S.
Written by Guest Writers on
Between 2003 and 2009, [the-mag] had regular contributors from music correspondents covering their local scene. You'll find them all in the guest writers section. The specific writer is mentioned at the bottom of each article.
Discover More Music