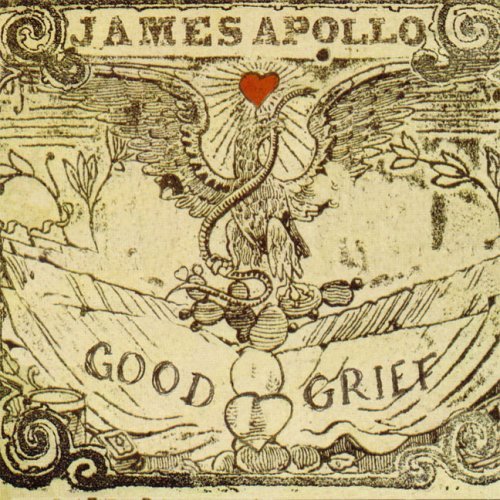 James Apollo
Good Grief
Looking like the last CD in the last chance salon's jukebox, James Apollo's 'Good Grief' has all the packaging to suggest that it's music from the bottom of a moonshine bottle. In fact, a quick glance over the press release tells me James was raised in the American Mid-West and at 16 'hit the road'. Criss-crossing the continent with his band, the less than pretty side of rock n roll was never avoidable, from 'sleeping in abandoned drain pipes in the Mojarve' to 'playing heated crowds in the ghettos of Detroit', its fair to say James has done his tour of duty.
So, slide that bottle over, pour another shot and pass the spittoon because I'm expecting an album of melancholic, earthy tunes with a desperate, poignant lyric, and goddam it, I'm going to need that drink!
With an eerie, tumbleweed of an intro, 'The Alamo' grinds into life like the prelude to a lazy gunfight in a dust ridden Mexican town. It's then all raspy vocals, twisted slide and dirty guitars in this haunted and drifting song which is surprisingly memorable as, simply, it's well written and has a catchy chorus.
However before any complacency sets in, 'Spring Storm' changes the direction and keeps you on your toes with its Tom Waits style of hallucinogenic song-writing and bluegrass rhythm. Interesting and unexpected, leaving me to scramble through the track-listing wondering what other surprises are lurking here… and it turns out there are a few.
'Dead Men Weigh More ( then broken hearts)' is a little gem of title with matching lyrics to boot, and weighing in at just over 3 minutes, it holds the attention throughout despite being deck-chair paced.
'Libertyville' however, starts at a marching pace and holds this tempo, gently building into a delicate song with good use of background organ/synths to subtly add layers to another, essentially simple, rock n roll lament about Apollo's hometown.
The Tom Waits influence pops up again in 'Mercenary Tango', with its dusty instrumentation set to a tango beat, while a Latin rhythm appears in 'Three Birds' to get that blood flowing again the morning after and continues its detox with the swinging and uplifting 'Slow Burn'.
So staring at my empty glass of gut wrenching homebrew I can safely say that, while Mr Apollo may well have dragged me through the arse-end of America's south, I feel a damn sight better, and indeed, wiser for it.
An intriguing and insightful release from an artist who deserves to pick up more then a few followers on his travels.
Written by Habert on
Pete Habert was sub-editor for The Mag and co-ordinated submissions from the swarm of writers that contributed articles from their local music scenes.
Discover More Music