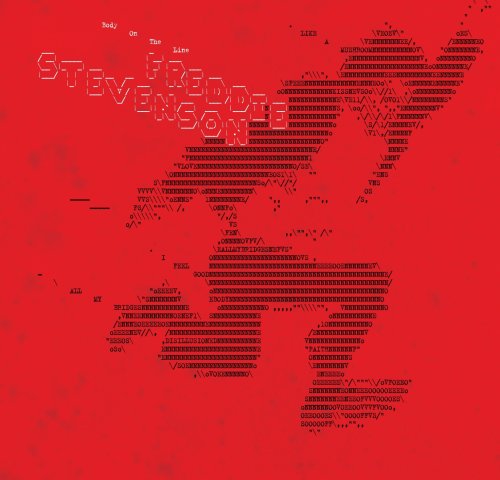 Freddie Stevenson
Body on the Line LP
Once, Freddie Stevenson would have been a companion of statesmen and princes. A poet, a minstrel with a voice of sad gold, an actor, a deft musician and a dashing romantic versed in the classics. You might want to hate him already. Don't.
These days statesmen and princes tend to hang out with far less interesting people, but great things are still forecast for our man, not least the claim by his people that 'Freddie and his band might just change the way you think of modern British songwriters'. That would be a direct line of mawkish diminishing returns from (the actually rather talented) David Gray through Damien Rice to the jackanapes Blunt. Quite a legacy to overturn, my young friend. The boggling thing is that Freddie might indeed be that good.
By turns, 'Body on the Line' is witty, romantic, rueful and always eloquent. There are an awful lot of words here, but they never get in each other's way. ('If You Don't Kiss Me' might be the most verbose of all, but is still a hook-laden hit single in the making.) Like his greatest forebears, Stevenson bends the music to fit the lyricism and never loses his thread. There's not a bum line or forced rhyme in the whole album.
Freddie has his share of influences – DrakeSimonSpringsteenJamesTaylor, sorry, forgive my Tourette's – but like all the greats, he doesn't sound quite like anyone but himself. One can hear the garrulous skiffle of early Paul Simon in 'What's the Sign for Love' or the ghost of Ryan Adams in 'St. Catherine's Day' (and he ain't even dead), but this is 100% pure Freddie Stevenson.
A likeable personality shines out. Fred's self-deprecating charm means that the constant wordplay enchants rather than annoys and, although there's much heartache here, he never falls into the trap of cynicism.
His band lifts 'Body…' beyond a mere singer-songwriter album. Guitarist and producer John Perry's playing is less scorching than with the Only Ones, but his mastery of texture and his ability to make that darn guitar cry like a wounded lover give each song its own extra bit of character. The others are hot stuff too – the drummer used to play with some bloke called Dylan.
I could go on. The laugh-out-loud brilliance of 'What's the Sign' and 'Kiss Me'; the touching impact of the quieter, less wordy songs like 'Heart Shaped Stone' and 'Hangdog'. What the heck. Listening to 'Body on the Line' is like seeing a young George Best beat his first defender, and is the best album this writer's heard since the Libertines' debut. In fact, it's the closest thing to a perfect ten I expect to hear for a very long time. Bet your house and heart on him.
Written by McLaughlin on
Stuart McLaughlin was a regular write for [the-mag] and was frequently seen in live music venues in search of great new music.
Discover More Music