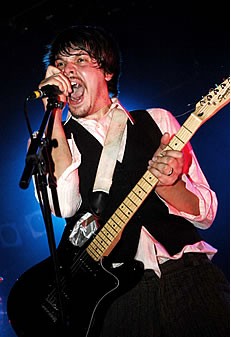 GuilFest 2006
Live Part I
Festivals are funny old things. Every one is different, having its own identity and target audience, yet everyone is the same in that its invariably just loosely organised chaos. GuilFest, thankfully, was no exception to the rule.
Arriving just after 3pm on the Friday meant we should have had a clear couple of hours to park the car, set up camp and get our bearings. But no sir, that's not how things work in festival world – which car park should we park in, where do we go to get our press passes, where should we be camping and where's the bar? All elementary question but, with the exception of the bar, none could be answered in full by the five different marshals asked which meant that, not only did we queue to get into the festival but we also had to queue to get out just so we could drive all the way round to queue to get into the car park we thought we should have been in, in the first place!
Anyway, with car parked, tent up and airbed inflated we were off into the musical playground (seven music stages plus comedy, theatre, and dance tents) of Guilfest.
Firstly though apologies need to go out to Big Wednesday as I managed to only catch a fleeting listen of what seemed to be an intriguing set of indie rocking tunes (such as 'Bright Eyes') perfectly placed to ease the crowd into the right mood for the long weekend ahead. Damn those stoned marshals!
Entering the Rocksound Tent you would be forgiven if you thought you'd just walked into an astronomers convention. The ceiling was a mass of blinking LEDs giving an astral glow to sheer darkness of the venue which, while being hot, stuffy and sweaty, was just a few degrees cooler then the outside (bliss). In other words the place had bags of atmosphere helped along by XC-NN's moody, industrial and danceable first album being the warm up music for the full 3 days. It also happens to be one of my favourite ever albums which I haven't heard for years, making me think someone knew I was coming.
Still no time reminisce as a large chunk of melodic rock with an acutely angled blues accent was upon us in the form of Bob.
For a three piece Bob had a big sound courtesy of a thumping bass and tight drums however, it was the quality of the songs on offer that encouraged such a wall of noise. Tunes like 'Big People' eminently displayed their talent for writing stomping melodies and big, hooky choruses and, by the end of their set, the crowd had been firmly won over. My only criticism would be ending a 30 minute set with a cover of 'Helter Skelter' which, while obviously a crowd pleaser, showed up the vocals for being more suited to their own tunes.
Maybe it was the waft of the steak sandwich van coupled 6pm start time which emptied most of the tent before Dead! Dead! Dead! took the stage – but then again maybe it was just the genuine quality of the tunes on offer which filled it back up by the end of the 30 minute slot. Whichever, DDD glided onto stage with an old fella dressed as Victorian undertaker, strolling through the audience and ringing a bell, encouraging us to 'bring out our dead'. We didn't have any, neither did they, in fact all they had set of fully alive quirky indie rocking numbers which were all so individual you'd think they were each written by different people.
All the favourites were there; 'Sex at Gunpoint', 'Vaudeville' and the set closer, the magnificent 'George Lassoes The Moon' – all performed with maximum energy using every inch of the stage. The dual vocals worked beautifully, the guitars gave the music the edge, the organ punched through when needed leaving the solid drums and the very fine bass work to underpin a great performance. And with that, and the bong of a gong, they were gone.
Just outside was the tactfully placed Comedy Lounge catering for the adrenaline fuelled audience leaving the Rocksound Cave, which could have been an erstwhile attempt to chill the punters before letting them back into the main festival. It kind of worked as waiting for us was Canadian comic Craig Campbell who is clearly wise beyond his years despite looking like Shaggy from Scoobie Doo.
After listening to Craig for 20 minutes I have to say I feel somewhat more complete for now knowing a world of new tricks to play on unsuspecting friends who pass out halfway through an evening. For example when in a hotel tell everyone awake to go back to their rooms to get those little sewing kits they always have. Then simply sew your friend to the sofa he's passed out on. They'll wake up thinking they're paralyzed – hurrah! ( There was also one about a lighted candle and a bare male arse but I'm sure that has to be illegal in most places!)
Wisdom gained, it was off for a spot of dinner with the Wonder Stuff and I'm pleased to report they are still as tedious as they ever were – I mean I wouldn't want them to go and get good all of a sudden and me not realise it. Suffice to say I'm sure they were leading lights of something, somewhere, sometime but, 'Size of a Cow' aside, I nearly fell head-first asleep in my Greek meze.
A quick after dinner constitutional saw us stumble into the Anderton's Live Club Stage drawn in by a handful well deployed riffs (which is as good as a 'Free Beer' sign for me). Gracing the stage was one of the youngest bands I've seen for sometime going by the name of Decora – an unfortunate name given that its only a matter of time before its used for a new range of Dulux paints.
Despite only catching the last two songs of their set it was easy to see this band had something going on, even if the tent was only half full. Stoner rock with some very direct and piercing vocals made up the framework for some great build-ups, explosive choruses and moody verses. Post-grunge would probably be the label most would use but it had a little bit more then that allowing Decora a potentially exciting future if they can develop in the right ways.
Now I know we're an 'independent and unsigned' website but given my undying love for AC-DC and my girlfriend's cries for 'a bit of dance' there was no other choice but to end the evening with the bluegrass evildoers that are Hayseed Dixie. In their own words their set was only about four things 'a cheatin and a killin, an beer and hell y'awl' and after some minor tuning issues, the B road to hell, via a barn dance, was well and truly open.
Now you won't need me to tell you what this band are all about, as you'll already know. However, what I can tell you is if you get a chance to catch them live, then do it. You'll be grinning from ear to ear and as sweaty as Paula Radcliffe having a jog round Athens before you leave. Brilliant (especially their own tune about 'Poop in a Jar').
With the music all packing up at just after 11pm (bar the Funky End, Silent Disco and Theatre Tent) it was off to the campsite via the Comedy Lounge to try and work out how to get on a double airbed without pinging the other person through the tent door – and much to our neighbours amusement, we failed.
Written by Habert on
Pete Habert was sub-editor for The Mag and co-ordinated submissions from the swarm of writers that contributed articles from their local music scenes.
Discover More Music