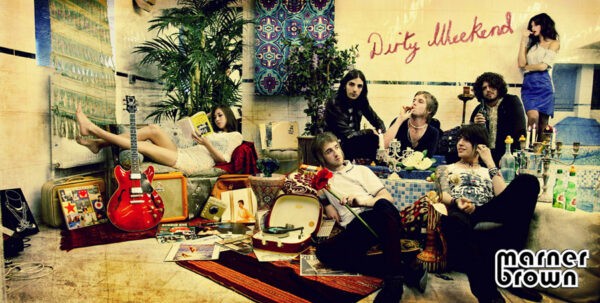 Marner Brown
Live
The Patchworks night at MacNasty's II in Twickenham used to be a bit of an institution known for giving unsigned bands an opportunity to perform. Now this haven for beginners is in danger of being taken over and July 2 night at the pub was a part of the now running 'save Filthies' campaign. Nine unsigned bands were lined up to play on the day: St. Jude, the Voxx, the Fairies Band, 20 000 Leagues, the Downbeats, Camel One, Damn Sly, and Marner Brown.
Marner Brown, of course, stand out a mile in any setting, be it a pub, or establishments like London's 100 Club, the Marquee Club, or the Clapham Grand. In their brief career Marner Brown has played all these venues, but they still return to MacNasty's partly because Twickenham is where some band members are based and partly because over the last year they have become almost a household name there.
The band's Myspace page describes their music as 'indie rock and roll with a twist' but it is more complex than this modest description might suggest. There are several layers of influences that transpire in their music. First of all there is an undeniable proximity to the mid-70s Led Zeppelin, the early Stones and Cream, but there is also a dreamier, more elusive side to Marner Brown which leans toward early Pink Floyd and even, at times, those mesmerising psychedelic moments of Hendrix.
The band played flawlessly on the night, like they do at almost every show. The technically challenging 'Waster's Game' with its changing rhythm patterns clearly influenced by Led Zeppelin's 'Physical Graffiti', was performed perfectly – bassist Dan Gulino and drummer Jackson Ellis-Leach working in a superbly functioning, fluent symbiosis. Singer Fiachra Kerrigan's distinct, slightly raspy voice (with touches of blues-inspired melancholy) ratified the impression of sophisticated, classy professionalism projected by the band.
'Panika', their more introverted and almost psychedelic number, showed that there is also an emotionally insightful, delicate side to this band's song writing. It took the audience into a different atmosphere which bordered on contemplative transfixion. Different moods that the band can evoke are as diverse as their influences. 'One Last Dance', for example, an upbeat potential hit that everybody always loves to hear Marner Brown perform, could have easily been written after an all-night session of listening to the Black Crowes records and then giving a light-hearted interpretation of the blues rock tradition.
What becomes evident right away when listening to Marner Brown live is their total competence and reserved aplomb, all in spite of their extremely young age. Drummer Jackson Ellis-Leach has not yet turned 20 and the rest of the band are barely out of their teens. Not only do they sound like seasoned musicians, but they also look like they have played for years and years together. There is something about their concentration and seriousness that makes you think that you are actually looking at men who have made music their profession, not kids who are out to have childlike fun playing on a Sunday night at their local while planning to become lawyers or salesmen in later life.
Guitarist Aaron A-Grimes is the most obvious asset of this band and requires a separate mention. He gives one hundred percent attention to his instrument on stage and doesn't have time for distractions. His solo during 'Killing Machine' was the high point of the show giving an impression of an imaginative, thoughtful musician who has chosen his career early. He is one of those rare young guitarists who actually have a lot to say musically. He never cuts his solos short, unperturbed by the alleged short attention span of young audiences these days, taking a lot from the style and the attitude of the late 60s and early 70s guitarists. Still, Aaron is able to remain who he is, which is a skilled and inventive musician just starting out on his path. Whether he stays in Marner Brown or goes on to other things, one matter is certain – we will definitely hear about him soon from major guitar magazines.
Marner Brown is a revivalist but still very original, guitar-orientated band which is proud of its influences and doesn't try to underplay them. They don't retreat to the insights of the past and their music is made out of their own feelings which they convey in a responsible way without excess or theatricality. They are also no attention-seekers and they don't pretend to be unhappy.
If this is the direction that the new generation of musicians is taking in Britain, then we certainly have exciting times ahead of us. Let's only hope that a record company A&R committee decision is going to be made soon about this one.
Guest article from Alyssa.
Written by Guest Writers on
Between 2003 and 2009, [the-mag] had regular contributors from music correspondents covering their local scene. You'll find them all in the guest writers section. The specific writer is mentioned at the bottom of each article.
Discover More Music