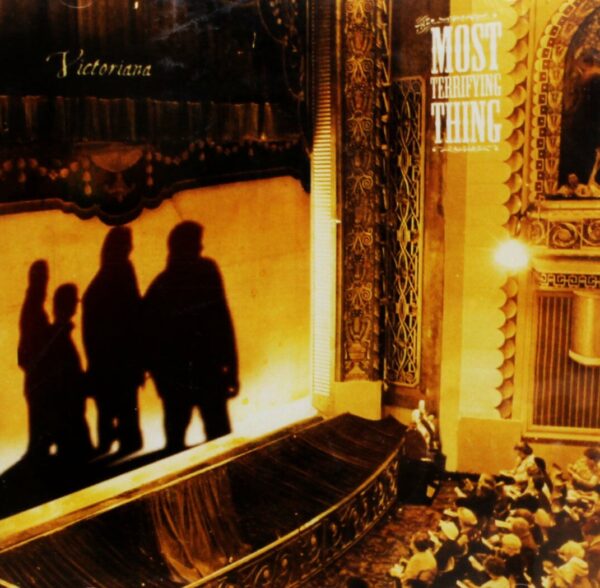 The Most Terrifying Thing
Victoriana LP
Swirling guitars eerily move up your front path temping you to peer through your letterbox only to find an angry salesman of a riff sticking his foot in your door. He isn't going away, not until you've bought something anyway, but fortunately that isn't going to be a problem.
From the grunge tinged opener of 'Programmed' right up to the final post-punk influenced 'Blackpool' the quality of TMTT goods is not in question. They are a class act.
Paul Champion's drumming is a solid beast, holding things back when needed but opening up like rabid canine when allowed – 'Silent Type' illustrating this excellently with its clever use of toms in the verse building things up to the energetic chorus and explosive ending.
Complementing the backline is Glen Noble's intelligent bass-work which, not only gives the guitars the confidence to express themselves, but comes to the fore in its own right in tracks like 'Tiamo', showing a melodic quirkiness which works on several levels.
The guitars of Masson and Pricey shun all things Liverpool in favour of a tuneful post-grunge sound which is both uplifting and measured in equal parts. They also have that cute intelligence of knowing just when to be quiet, how to build using simple riffs and when to stride to the front of the mix and grab you by the happy sacks – just listen to 'Pain and Problematics'.
However, just pipping all these virtuoso performances has to be Pricey's vocals. From the rather decent hidden track at the end of the album, all the way back to the opener, the quality of this voice doesn't slip one little bit. To say Pricey sounds like Cobain would be wrong. However, take a large chunk of Kurt's growl and add this to the more rangey Eddie Vedder and you are close, but not yet spot on. The finishing touch is Pricey himself who has a charisma to his voice which allows it sit on top of the music like generous monarch, every now and then allowing one of his subjects to take the spotlight.
With not one Theo (bless 'im) Walcott in sight there are no fillers in this starting eleven for TMTT. In fact, with three previous 8/10 short-players included here ('80's Love Affair', 'The Pianist' and 'Things Always Change'), TMTT have proven they are not just good, but consistently good – and that, Mr McClaren, is the essential ingredient needed for success. Take note.
The Most Terrifying Thing Articles
Written by Habert on
Pete Habert was sub-editor for The Mag and co-ordinated submissions from the swarm of writers that contributed articles from their local music scenes.
Discover More Music